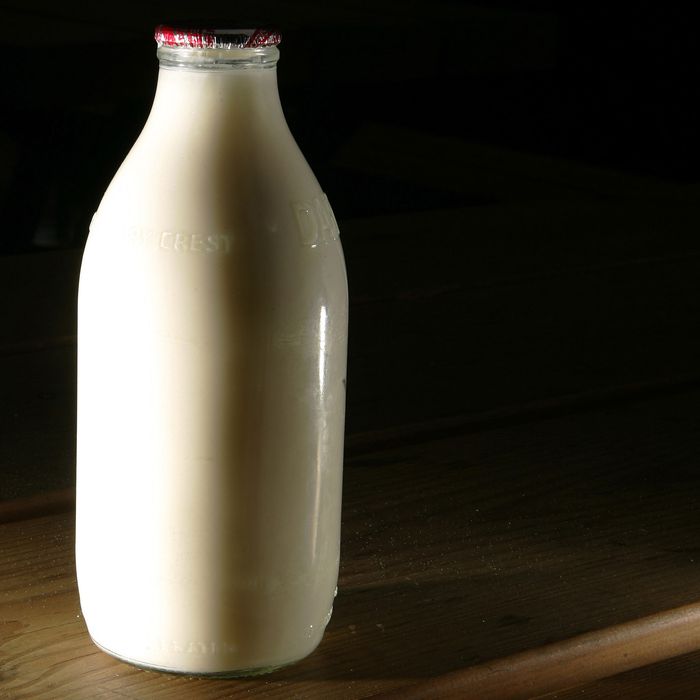 Is this pasteurized?
Photo: GEOFF CADDICK/AFP/Getty Images
Earlier this year, a Loganville, Wisconsin, organic farmer named Vernon Hershberger was found not guilty on three out of four counts stemming from a 2010 raid and shutdown of his illegal raw-milk operation at the hands of state authorities, and now two of the jurors who acquitted him have become raw-milk advocates. "I want to join that buyer's club, I feel very passionate about it," 51-year-old Michele Bollfrass-Hopp tells the Wisconsin State Journal.
Another juror tells the paper she also wants in, adding that she thinks raw-dairy sales should be legal as long as laws addressing the risks are written. Three more jurors have written to Hershberger asking to join the buyers club, which likely makes him the most popular raw-milkman in Loganville. The health benefits of drinking raw, fresh milk — as opposed to its common pasteurized form — continue to be the subject of debate and the focal point of activists working in several states on legalization efforts. Despite various claims of deliciousness and health benefits, the CDC asserts that illegal raw-milk consumption is responsible for a recent uptick in cases of food-borne illnesses.
Jurors who acquitted him speak in support of organic farmer Vernon Hershberger [Wisconsin State Journal]
Earlier: It's Raw Milk, Man, Not Marijuana
Related: Raw Milk, Poultry, Shellfish May Be Causing Spike in Food Poisonings