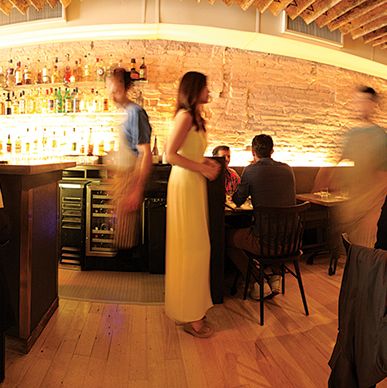 Alder. Photo: Jenny Westerhoff/New York Magazine
Like all great experimental artists, Wylie Dufresne has had times, during the course of his long and storied ­career, when he has strived so mightily to stay ahead of the curve that he's ­ended up being ever so slightly behind it. Alder, which opened not long ago in a dimly lit bolt-hole of a space on lower ­Second Avenue, appears to have been ­designed to remedy this problem in one fell swoop. Unlike at Dufresne's influential but increasingly overstudied flagship establishment, wd-50, the menu at this casual, modernist "public house" is clean and economical (no dish costs over $24). The understated, minimalist façade bears a striking ­resemblance to the popular ­Momofuku franchises in the neighborhood, and the décor (brick walls painted a bunker gray, slats of reclaimed wood in the rafters, a bar built for eating as well as drinking) looks as if it had been designed by David Chang himself.
The food, also, seems to have been composed by Dufresne and his executive chef, Jon Bignelli, with that distinctively Changian combination of comfort and high-angle technique in mind. There are no steamed pork buns on the menu at Alder, but you can enjoy an interesting interpretation of pigs in a blanket, made with Chinese sausages instead of hot dogs and served with dabs of esoteric Japanese mustard. Unlike most salmon tartare, the one here is plated with a delicate cloud of horseradish cream, under a dome of fresh green avocado. Dufresne's interpretation of New England clam chowder is as creamy and comforting as anything you'll find in the chowder shacks around Boston, but instead of being served with standard oyster crackers, it's sprinkled with actual oysters, which have been dehydrated and fried for an extra, crackly crunch.
At wd-50, in recent years, you could sense the chefs laboring mightily to come up with their next molecular-­gastronomic trick, but at Alder, most of the cooking has a refreshingly seamless quality to it. The crostini are made with thin slips of pumpernickel and topped with shreds of kale and pearly spoonfuls of trout roe touched with ponzu. The de rigueur barnyard egg dish is composed of a single, beautifully poached egg floating with assorted artisanal Japanese mushrooms in a bowl of delicious sherry consommé (dappled with drops of tarragon oil), and if you order the classic foie gras terrine, it arrives at the table carved, ingeniously, in the shape of a fried egg (with
a ring of poached apple and Chartreuse-flavored yogurt in the middle) over a small, gently toasted English muffin.
Some of the larger, entrée-style dishes at Alder don't pack this kind of elegantly concentrated punch, but most of them (fried quail with banana curry for $20, a dense oxtail stew with spicy carrot slaw for $23) are a relative bargain. In accordance with the fashions of the day, there are plenty of archly named cocktails (try the rye-based Dr. Dave's 'Scrip Pad) and an interesting, if slightly spare, selection of new-millennium comfort-food desserts. My vanilla ice cream was drizzled with red-pepper oil, and the excellent banana-and-toffee banoffee tart (since replaced by a dehydrated-cherry cheesecake) is feathered with banana chips. If you're in the mood for adventure, however, call for the root-beer pudding, which tastes of root beer, of course, and whipped country cream, all mingled together with smoked cashews.
Pearl & Ash, on the Bowery, is another unassuming downtown restaurant that delivers more than it promises. The small plates are designed for communal consumption, the way Dufresne's are, and the proprietors bill their restaurant as a progressive wine bar. There aren't many wine bars around town, however, that offer dabs of melting, gourmet-quality hanger-steak tartare (served with melba toast speckled with dehydrated olives) to go with your glass of Damien Coquelet 2011 Burgundy. Not to mention house-baked bread served with an ethereal substance called "chicken butter" (fresh-churned butter and chicken fat), or delicate helpings of diver scallops (strewn with fennel and lily bulbs) so expertly prepared that a chef at my table put down his fork and declared, "If they served this at Le Bernardin, people would go insane."
The architect of these unexpected treats is Richard Kuo, who was a partner, most recently, at the well-reviewed Brooklyn pop-up Frej. Spare, Scandinavian forager cuisine was the theme at Frej, but Kuo's cooking here is exuberantly all over the map. My smoky portion of grilled skate was blackened with cumin-rich Moroccan spices, and the soft, crunchy-skinned octopus is rolled in Sriracha-laced togarashi powder from Japan and garnished with fresh shiso. I wasn't wild about the gooey streak of uni in the Thai long beans, but dishes like the lamb belly (candy-soft, with a kohlrabi purée) and the deboned fried quail are worth a special trip. You can't say the same about the two, pro forma desserts, unless you happened to be a fan of the medicinal Italian digestif Fernet-Branca, which the chefs use to create a boozy ice-cream sandwich.

Alder
157 Second Ave., nr. 10th St.; 212-539-1900; aldernyc.com
Hours: Daily 6 to 11 p.m.
Prices: Appetizers, $9 to $18; entrées, $20 to $24.
Ideal Meal: Pumpernickel crostini, clam chowder, foie gras terrine, fried quail, root-beer pudding.
Note: This former no-reservations joint now takes them online.
Scratchpad: One star for the technique of Dufresne's ever-evolving nouveau-comfort-food menu, one for the taste, and another for the all-around ingenuity.

Pearl & Ash
220 Bowery, nr. Prince St.; 212-837-2370; pearlandash.com
Hours: Dinner Monday through Saturday 5:30 p.m. to midnight.
Prices: Appetizers, $8 to $16; entrées, $24 to $28.
Ideal Meal: Bread with chicken butter, hanger-steak tartare and/or pork meatballs, lamb belly, skate and/or fried quail, ice-cream sandwich.
Note: Patrick Cappiello's impressive eighteen-page wine list includes 35 varieties of Champagne.
Scratchpad: Two stars for the cooking, and another for the wine. Minus a star for the meager desserts.
*This article originally appeared in the June 17, 2013 issue of New York Magazine.