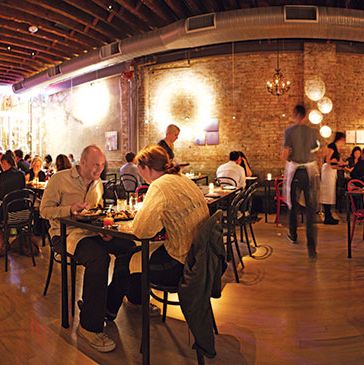 ABC Cocina Photo: Jenny Westerhoff/New York Magazine
After highly publicized obsessions with fried chicken, barbecue, and, of course, the hamburger, it was only a matter of time before the city's ­comfort-food cognoscenti got around to the lowly taco. And why not? The taco is easier to prepare than fried chicken, less temperamental than barbecue, and much more versatile and diverse than even the grandest haute chef burger. The taco is a kind of sandwich, after all, and sandwiches have been all the rage in comfort-food circles for several years now. You can stuff roasted bone marrow and steak tartare in your taco (the way they do at the Mexican-­inspired Xixa in Brooklyn), or Moroccan lamb (April Bloomfield's Salvation Taco), or fresh English garden peas (with ricotta and roasted spring onions at Alex Stupak's Empellón Cocina), and the dish works equally well as a simple bar snack or as a sophisticated entrée, provided you order several at the same time the way my taco-mad daughters like to do.
The great Alsatian chef Jean-Georges Vongerichten didn't start the Great Taco Craze, of course, but his latest venture, ABC Cocina, validates it. Or so it occurred to me, as I sat at the bar not long ago, contemplating one of the fine house margaritas, which the cheerful bartenders tinge with pink grapefruit, or basil, or even mango essence. Like ABC Kitchen (which helped validate the farm-to-table movement when it opened three years ago), this Nuevo Latino establishment is located on the ground floor of ABC Carpet & Home, off Union Square. Also like ABC Kitchen, the ceiling is hung with an eclectic selection of glass chandeliers that look like they've been heisted from the showroom outside. The room is gloomier than the one across the hall (the tables are polished black steel instead of farm style; the walls are concrete and brick instead of white), but the menu is written in the same neat purple script, and everything on it sounds enticing.
Unlike ABC Kitchen, however, ABC Cocina seems to have been designed by Jean-Georges and his talented lieutenant, Dan Kluger, more for grazing (or browsing, in ­department-store-speak) than for a sit-down dinner. The diffuse small-plates menu has seven sections, each one with a bouncy name like "Light & Bright" and "Golden & Crispy," and it's possible to make an entire meal out of any of them. Our first avalanche of food included ruby-colored slices of Ibérico ham (from the "Table Snacks" section) and an excellent, faintly spicy bowl of guacamole stuck with a chewy, fresh-fried tortilla and scattered on its top with garden peas (also a "Table Snack"). There were several kinds of similar-­tasting fritters, I dimly recall, some very good crudo (fluke, gently grilled "sashimi" tuna with pimentos), and a helping of poached prawns from Patagonia (under "Raw Bar"), which my tasters and I peeled with our fingers and dipped in a little pot of paprika aïoli.
When they appear, the Jean-Georges tacos are propped in elegant holders, and although many of the tacos have their charms, I was shocked to hear one or two hushed quibbles about them from the assembled taco geeks at the table. "I give this fish taco a five out of ten," whispered one, as she furtively spooned excess gouts of pickled cabbage and aïoli off the perfectly respectable piece of crispy fried flounder and onto her plate. The strips of tender chipotle-marinated chicken breast in my chicken taco were commendable in every way, but the taco itself was similarly encumbered with a few too many busy toppings and too much jalapeño salsa. So if you're looking to justify the lavish sticker price (no single gourmet taco here costs under $6), we suggest the pulled-pork classic (with pickled onions and fresh cilantro) or the glazed-short-rib taco, piled with a rich habanero-chile relish and drifts of frizzled onions.
If it's dinner you want at ABC Cocina instead of a series of elaborate bar snacks, the places to look are in the "Wood Burning Grill" and "Rice" sections at the bottom of the menu. My friend thought the fat, green wood-grilled asparagus tasted more of the grill than the garden (she was right), and another companion thought the glazed, recently warmed baby back ribs tasted more like pork roast than a proper rib (he was right about that too). But no one had any complaints about the fat, well-charred ­chorizo sausage, or the beef tenderloin "burnt ends" (smothered in a vividly green chimichurri sauce), or the deliciously lemony arroz con pollo (chicken and rice folded with bits of crackling), all of which are served on signature ABC Cocina potteryware that you can purchase in various combinations on the company website.
This new Jean-Georges-Kluger ABC outlet is not quite as tight and focused as their original collaboration, but when you factor in the range of the food and the myriad boozing opportunities, you could argue that it's a good deal more fun. In addition to the margaritas (the grapefruit being my favorite), the bar serves jugs of New Age sangria spiked with passion fruit (white wine) and hibiscus (red wine), and an interesting, if pricey, $15 rum daiquiri with a hint of rhubarb. The modestly priced $8 desserts—a respectable flan, rice pudding drowned in too much rhubarb compote, seasonal ice pops, the inevitable plate of fritters—are designed for facility and are more or less worth what you pay for them. The lone exception is a soft, crumbly wedge of layered almond cake, which is frosted a bright-ivory white on its top and tastes like something you'd encounter at an elegant, well-catered wedding in the south of Spain.

ABC Cocina
38 E. 19th St., nr. Broadway; 212-677-2233; abccocinanyc.com
Hours: Dinner Monday through Thursday 5:30 to 10 p.m., Friday to Saturday
5:30 to 11 p.m., Sunday 5:30 to 9:30 p.m.
Prices: Small plates, $6 to $18; entrées, $7 to $38.
Ideal Meal: Spring-pea guacamole and/or warm marinated olives, raw fluke and grilled "sashimi" tuna, tacos (short rib, pulled pork) and empanadas (spiced chicken), arroz con pollo with crackling, almond cake, margaritas.
Note: Avoid the sooty outdoor café space, unless you enjoy eating in traffic fumes and 90-degree heat.
Scratchpad: One star for the best of Jean-Georges's Nuevo Latino cooking, and another for the booze.
*This article originally appeared in the June 24, 2013 issue of New York Magazine.