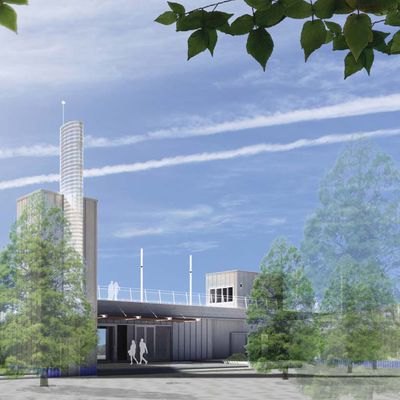 It will look something like this.
Photo: Courtesy of Hudson River Park
A large new restaurant with killer views of Hudson River Park and the choppy gray-green river itself is coming to Tribeca, it turns out. Hudson River Park Trust has issued an RFP for the under-construction building at Pier 26, which is being used these days for the most part to host special events but is the future home of an elegant pavilion building next to the boathouse. Once completed, it'll boast tall windows on three sides, large sliding glass doors that open on to the river, and multiple outdoor seating areas for al fresco dining.
"It's an empty slate right now," Hudson River Park CEO Madelyn Wils tells Grub Street. It's expected that the incoming operator will put locally produced food to good use at the venue, she says, but the trust is looking for a broad cross section of fresh ideas. A large seafood house might be a natural fit for the pier, but the site could also become a beer garden focusing on regional microbrews, or even a family-oriented bistro. "I'd like there to be something for everyone," Wils says.
Some details: The dining room is 1,678 square feet and will have room for 114 people. Outdoor terraces at pier level will seat up to 150 more, and a showstopping, 4,458-square-foot roof terrace will accommodate up to 300 guests. The windows that wrap around three sides of the building are practically ten feet tall. (And yes, the restaurant will be built with a floodwall to help mitigate any future storm surges.)
Restaurant consultant Steven Kamali is acting as a pro bono food and beverage adviser to the HRPT and will help field the proposals of potential operators later this summer. He considers the Pier 26 project an opportunity to create a future landmark.
"There are plenty of spots along the park that provide amenities," he says. "But the way we're thinking about this is for the restaurateur to come in and open something that becomes a true dining destination, a place to get a great piece of chicken or some great sushi. The idea is to open a place that diners will actively seek out. That's why we're looking for phenomenal operators."
The trust is accepting proposals until August 23 and plans to select an operator by the end of September. More information can be found here.

Bids & Business Opportunities [Hudson River Park]