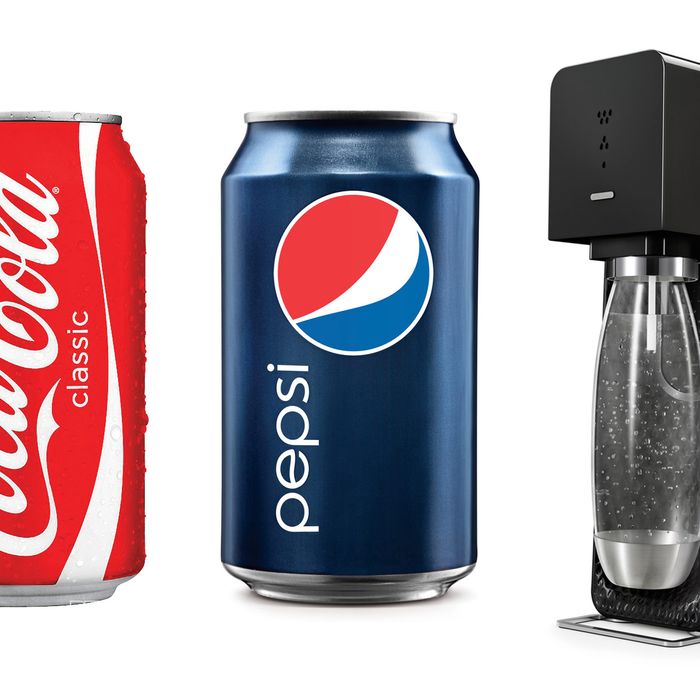 What's the difference, anyhow?
Photo: Courtesy of Coca-Cola, PepsiCo, and SodaStream.
This morning, several sources, including Globes, reported that soda titans PepsiCo and Coca-Cola had initiated meetings with the Israel-based SodaStream International "about a month ago." Meanwhile, the Calcalist reported that PepsiCo had made a $2 billion offer for the DIY home carbonation company through Goldman Sachs, and SodaStream's share price gained more than 20 percent on the German trading floor after a source said that PepsiCo was "willing to go even higher" than $2 billion on the deal. Stocks dropped just as soon as PepsiCo CEO Indra Nooyi told CNBC the reports were "totally and completely untrue."
Neither Coke nor Pepsi is denying that representatives have met with SodaStream executives, and no one is really sure if the arrangement would be a buyout or a partnership. Any sort of agreement seems like it would be an odd development, but it's really not.
Though it sells an entire line of sugary knockoff mixes meant to look and taste just like name-brand cola, the home carbonator company has more recently started pitching itself as a healthier, more ecofriendly alternative to Big Soda with a series of purportedly "banned" ads that mock Coke and Pepsi. One paid off handsomely last year in Europe, while the other, scored with Deliverance banjos, was banned by CBS from appearing during the Super Bowl but promptly blew up on YouTube, racking 4.6 million views in one week. The move seemingly outfoxed Coke and Pepsi and saved millions of dollars in the process.
Of course, this is marketing. While Big Soda is besieged by lawsuits and studies linking its products to obesity, at least SodaStream can sell its signature product as sugar-free. As a result, it has profited immensely entering the fray and perpetuating the idea that the rivalries between the soda companies are actual wars.
Consumers are stuck with the myths of the old soda wars: In the eighties, we're told, Big Coke and Big Pepsi legendarily went down a path of mutually assured destruction with increasingly expensive buys until Coca-Cola finally lost its balance. In The Other Guy Blinked: How Pepsi Won the Cola Wars, former PepsiCo chief executive Roger Enrico argued that signing Michael Jackson for two commercials in 1984 for $5 million was the most unprecedented move ever made by a soda company. It ended up forcing New Coke off the market.
Of course, this was mostly myth: New Coke tasted bad, and the company received more than 400,000 calls and letters saying as much. The soda companies themselves, New York Times writer Michael Moss reminds us, "weren't fighting each other as much as they were pulling together to drive up consumption overall." There's no reason not to think the same maneuvering isn't going on right now with the two leads spinning away and reprising their warring bits, with the seltzer company joining the fray as some spurious guerrilla force.
PepsiCo CEO denies SodaStream interest [Globes]
PepsiCo CEO: Sodastream Speculation 'Totally and Completely Untrue' [CNBC]
PepsiCo denies in talks to buy SodaStream [Reuters]
Earlier: Can Coca-Cola Repair Indian-Pakistani Relations?