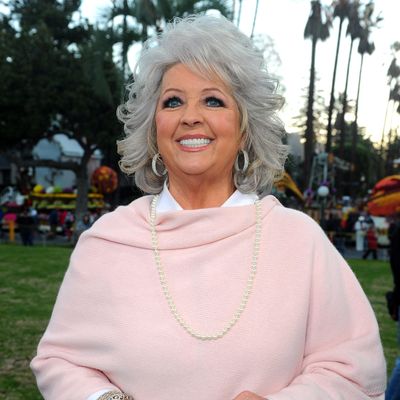 Deen, during happier times.
Photo: Alberto E. Rodriguez/Getty Images
When Grub Street last checked in with Paula Deen, the embattled 66-year-old Southern celeb chef had released a pair of awkward, slapdash apology videos online in which she both begged for forgiveness from the public, and said she and her family are "not the kind of people that the press is wanting to say we are." But, as you know, the videos were too little too late, as Food Network acknowledged they won't extend Deen's contract after it runs out at the end of the month — a move that prompted Deen supporters to express their outrage on Food Network's Facebook page. So, what's happened since then? Plenty!
First up, a third Deen video went online late Friday, this one just as bizarre as the first two. This time, the short video specifically addresses Deen's Today show absence:
That night on CNN, Anderson Cooper talked to Deen's former publicist, Nancy Assuncao, who said that she never heard Deen use any racial slurs, but confirmed Deen has a very dirty sense of humor. Assuncao nevertheless says "mistakes were made" in response to the scandal, and calls the reaction from Deen's camp "cringe-worthy."
On Saturday, People obtained a perfunctory statement from Deen regarding Food Network in which she thanks the channel for just giving her a chance:
I have had the pleasure of being allowed into so many homes across the country and meeting people who have shared with me the most touching and personal stories … This would not have been possible without the Food Network. Thank you again. Love and best dishes to all of ya'll.
Meanwhile, the Times' Kim Severson trekked over to Savannah to check out the scene at Deen's main restaurant, the Lady and Sons. There, she found a line of supporters. The story makes a point of mentioning that at least one line member was an African-American woman who made the trip from New Orleans to show her support. Even still, some line members' views on race come across as being as confused as Deen's. Here's one person (the Times doesn't note her race), speaking about the N-word: "I don't understand why some people can use it and others can't."
In the same story, Emory University's director of the James Weldon Johnson Institute for the Study of Race and Difference explains the obvious — "People take a term that was a way to denigrate or hold people in bondage for the purpose of continuing their subordination and turn it around as a way to reclaim it" — before adding "That nuance is too much for us."
Speaking of missing the nuance, some Twitter users quickly reacted to the Times story by simply making fun of the fat people in the accompanying photo:
New York Times trolls Paula Deen fans on homepage. #backfat #kneerolls #diabetes pic.twitter.com/dCWQfBjZW7— Peter Krupa (@peterkrupa) June 23, 2013

C'mon New York times. Could you have picked a more stereotypical picture to go with you Paula Deen article? LMAO! http://t.co/6OPNWZhkrD— Barry Cunningham (@barrycunningham) June 24, 2013

Despite the commentary about the, ahem, size of the line outside the restaurant on Saturday morning, Eater sent a photographer over to the restaurant on Saturday afternoon and discovered the place was "a ghost town." (All of this Lady and Sons coverage, though, raises the question: What's the scene like at Uncle Bubba's Oyster House, the restaurant at the center of the lawsuit that ignited this whole scandal?)
That brings us to today, and more specifically Today, which confirmed this morning that Deen will appear on the show this Wednesday after bailing on her scheduled appearance last week. Everyone will no doubt be watching to see what Deen has to say, but it seems impossible to imagine that she will be able to do anything that can reverse the damage that many people agree has already been done to her already dubious reputation.
Earlier: Food Network Drops Paula Deen After She 'Begs' for Forgiveness in Video
Related: 16 Outraged Paula Deen Fans React to Food Network Firing on Facebook