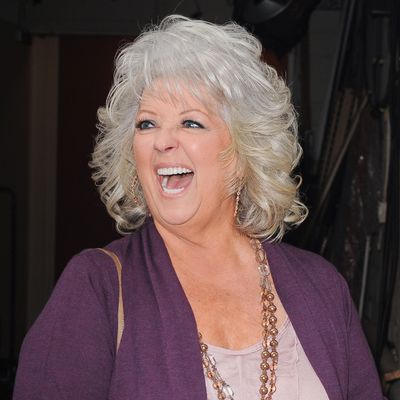 The celebrity chef is facing a public-relations crisis following allegations of racism.
Photo: Getty Images
Embattled television chef Paula Deen was scheduled to make her first public appearance this morning on Today when her public-relations team sent word to NBC that she was pulling out for vague reasons. (Deen often turns to Today when she's in the midst of a scandal.) A publicist cited general "exhaustion," and during a segment in which Matt Lauer addressed the cancellation on air, Al Roker implored Deen to change her mind, saying, "we consider her a friend, and we would hope that she'll reconsider, but she really needs to address this."
Hoping to get more info on the Paula Deen situation soon. Very confusing.— Matt Lauer (@MLauer) June 21, 2013

'Paula Deen was scheduled to do an interview with us this morning, live in our studio, but we just found out, she's a no show' - @mlauer— TODAY (@todayshow) June 21, 2013

The celebrity chef made headlines earlier this week when it was reported she had used racial slurs and had allegedly told racist and offensive jokes. The revelations were part of a videotaped deposition Deen gave last month as part of a lawsuit she and her brother are facing in Georgia, in which a former manager at the family-owned Uncle Bubba's Seafood and Oyster House contends she and other staff members were subjected to racism and abuse.
Update: The day got a whole lot worse for Deen.
Paula Deen Drops Today Show Appearance [TPM]
Earlier: Paula Deen Reportedly Planned a Wedding With Waiters Who Looked Like 'Slaves' [Updated]