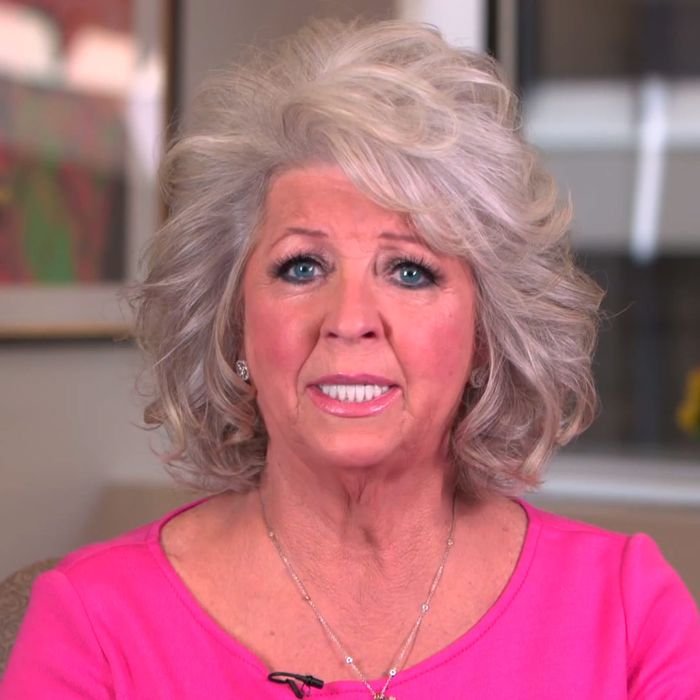 Paula Deen is not having a good day: The 66-year-old celebrity chef and entrepreneur appeared visibly exhausted and disorganized in a short video statement that addressed reports published earlier this week regarding allegations of racism. However, that video was quickly pulled from YouTube, and another statement was put up in its place where Deen looks more composed and addresses her absence on the Today show. But things went from bad to worse when Food Network confirmed that it wouldn't be renewing her contract.
First up, the videos. Here's the original:
Deen's pink shirt is the only upbeat part of the video, which is 45 seconds long but is nonetheless not shot as a continuous cut; Deen's sober and contrite admission that "inappropriate and hurtful language is totally, totally unacceptable" comes with the added gravity of someone who has realized this latest incident is nothing like her previously controversial missteps.
That video was quickly pulled, and this emerged soon after:
In addition to the apology, Deen also explains why she canceled her scheduled appearance on Today this morning — a particularly notable move because she has used the show so effectively as a PR refuge in previous moments of crisis.
Deen, of course, is trying to protect her brand, which derives its power from a magazine with a reported circulation of 1 million and a constant presence on Food Network. But it seems that relationship has come to an end, as reports made clear that the network will "not renew Paula Deen's contract when it expires at the end of this month." (A day earlier the station released a cautiously worded statement: "Food Network does not tolerate any form of discrimination and is a strong proponent of diversity and inclusion.")
Deen is under fire for alleged past use of racial epithets and planning a wedding reception staffed by waiters who looked like "slaves," among other things; the information was disclosed during a deposition videotaped last month in conjunction with a sexual harassment lawsuit filed against her brother Bubba Hiers by former Uncle Bubba's Seafood and Oyster House general manager Lisa Jackson in Savannah last year.
The intractability of Paula Deen's position worsened after the "bombshell report" subsided and the deposition transcript appeared online. Allegations of epithet-use shifted to other statements made by the celebrity chef, including her admission that "I try to go with whatever the black race is wanting to call themselves at each given time."
If it wasn't clear to Deen before, it should be now: She's going to have to do a lot more than release a couple of video apologies if she hopes to fix her image.
This post has been updated with additional information.
Earlier: Paula Deen Abruptly Cancels Today Interview With Matt Lauer
Earlier: And Here's the Daily Show's Take on Paula Deen
Related: Paula Deen Reportedly Planned a Wedding With Waiters Who Looked Like 'Slaves' [Updated]