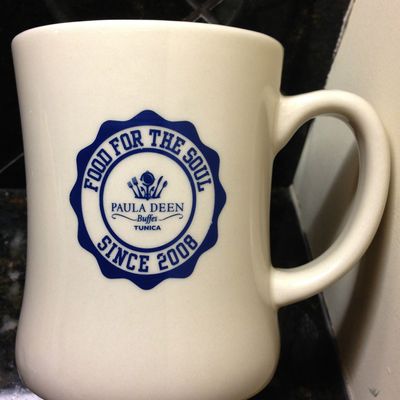 A $90 coffee mug looks like this.
Photo: eBay
The seemingly nonstop parade of bad news for the celebrity chef has led to a deluge of new eBay listings for Paula Deen–branded furniture and cookware, but a number of cultural artifacts and oddities are up for grabs, too. EBay right now is a weird, Zeitgeist-y realm where opportunistic sellers can rename bargain-basement party wigs "Paula Deens" and re-list them at a 2,000 percent markup, people actually buy these tacky "We Support Paula" pins for $2.95 apiece, autographed photos hover around the $150 mark, and one self-described "extraordinaire and well-versed" artist dude is selling original Paula Deen paintings for $234,442 and another for $3,999. Then there are the folks who just want to help the old and sick elephants.
One user is not only selling a "Butter, Y'all" shaker set and butter tray, but also a Paula Deen–branded coffee mug from her ill-fated namesake buffet in Tunica. Ten percent of proceeds of these auctions will go to the Elephant Sanctuary in Tennessee.
"THEY ARE CLOSING THIS RESTAURANT FOREVER!!!!" the listing (accurately) notes. But the final cost for this "one of a kind" piece of history? $89.95.
At least shipping is free, and some poor elephant out there is going to get some dinner out of this.
PAULA DEEN COFFEE CUP FROM (SOON TO BE) CLOSED BUFFET IN MISSISSIPPI *RARE* [eBay]
Earlier: Paula Deen Defends Herself on Today: 'I Is What I Is'
Related: Themed Paula Deen Buffet Restaurants Will Close in Caesars Properties