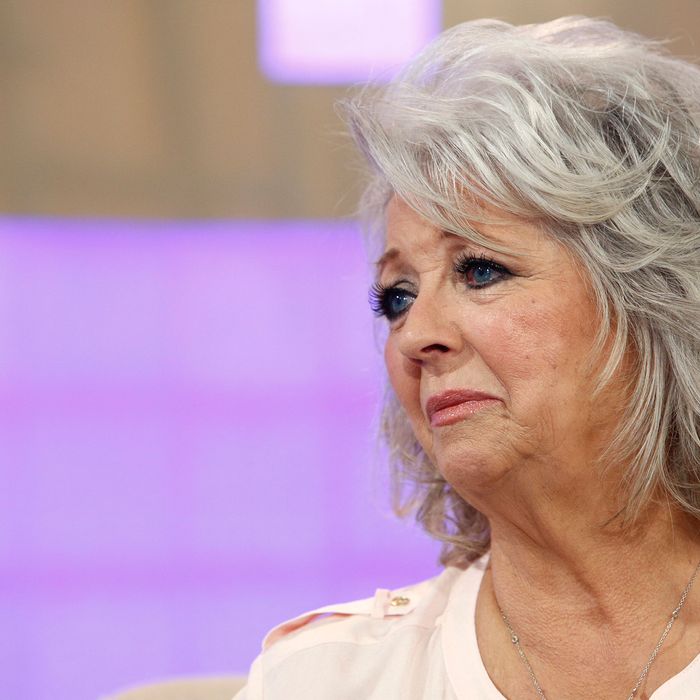 Plans to release the book have been scrapped.
Photo: NBC/Getty Images
In an abrupt turn of events, Random House has announced it will not release the new, already popular Paula Deen cookbook it had planned to publish on October 15. A representative for Ballantine Books tells Publishers Weekly that the decision not to release the book was the result of "careful consideration." The forthcoming cookbook of healthier alternatives to Deen's traditional standards, called Paula Deen's New Testament: 250 Favorite Recipes, All Lightened Up, had skyrocketed to the No. 1 spot on Amazon's best seller list as a result of the celebrity chef's fans, who mobbed the site with preorders and otherwise bought extra copies of the chef's other books throughout the week. The cookbook hit the top spot on Wednesday.
The Random House announcement was made on the same day that several major retailers, J.C. Penney, Kmart, and Walgreens among them, will be "phasing out" merchandise bearing Deen's name from store inventories. The Amazon page for the chef's New Testament is still live, but likely not for too much longer.

"I am sorely disappointed in the behavior of Random House for obvious reasons, and other reasons that will become apparent," Deen's literary agent Janis Donnaud tells the site. Donnaud adds that she thinks she will be able to quickly find a new publisher for the book, and for any other books Paula Deen may write in the future.
Random House Cancels Paula Deen Book [Publishers Weekly]
Earlier: Watch Jimmy Carter Implore All Americans to Forgive Paula Deen
This post has been updated with new information.