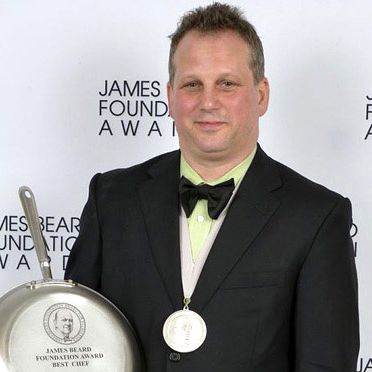 Kahan has a lot of pans and pots on the fire.
Photo: Kent Miller/James Beard Foundation
Avec and Blackbird chef-owner Paul Kahan tells the Chicago Tribune that his forthcoming restaurant at the Thompson Chicago hotel in the Gold Coast will be called Nico, and it will serve a seafood-heavy Italian menu. Avec's chef de cuisine, Erling Wu-Bower, will switch kitchens and oversee a menu featuring "handmade pastas, crostinis, crudos and grilled seafood."
Kahan, who tied with David Chang to win this year's James Beard Foundation award for Outstanding Chef, is right now traveling with Wu-Bower and other team members on a ten-day food-finding mission through Puglia, and says that, despite its tony neighborhood setting, the bi-level, 125-seat Nico will be imbued with "unpretentious elegance."
Paul Kahan and Co. readies Nico, an Italian seafood restaurant in Gold Coast [Chicago Tribune]
Earlier: Paul Kahan To Open On Rush Street, But Avec New York Still Far Off
Related: Paul Kahan Ties With David Chang For Outstanding Chef; Izard, Aviary Winners
This post has been corrected to show that Nico opens in December.