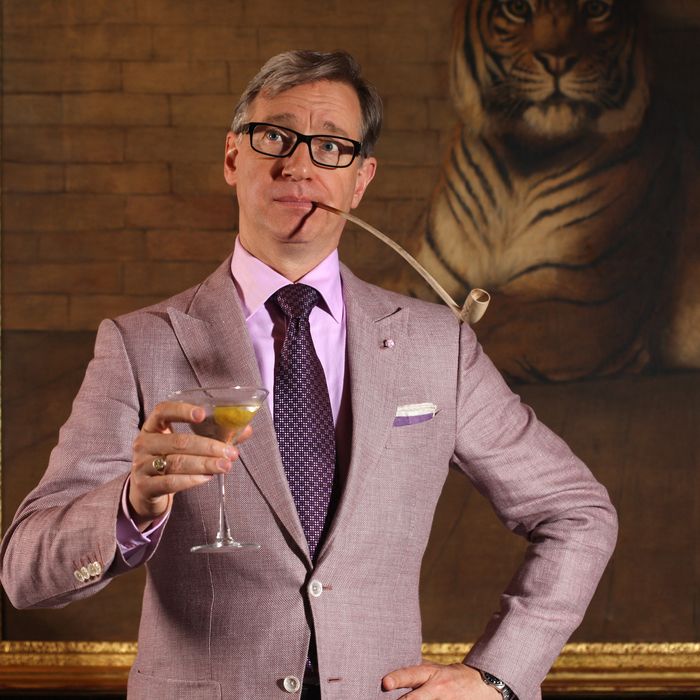 "Keens is one of my favorite places."
Photo: Melissa Hom
Paul Feig, creator of Freaks and Geeks, as well as director of Bridesmaids and this week's The Heat, grew up a picky eater. But as he told Vulture recently, Mexican food changed his life ("There were flavors, and food tasted like something, and it was an epiphany") and opened the door to all sorts of new things. So this week, while the food-loving Feig was in New York for the junket and premiere of his new movie, he also found time to grab lunch at Keens, partake in an awe-inspiring dinner at Del Posto, get a mid-afternoon snack of pulled pork in Brooklyn, and drink lots (and lots) of Champagne. Read all about it in the Grub Street Diet.
Friday, June 21
I grabbed breakfast while waiting for a train in Boston. I got turkey chili and orange juice at one of those train-station places, a bakery. When I got to New York, I had to go to a meeting with a famous actress — I can't say who! but a wonderfully warm and funny and nice actress — at Bubby's, so I kept the chili theme going with some vegetarian chili at our late lunch at 4 p.m. Chili is one of those things that I think I can eat every day and I would be fine.
 
Then I had a drinks meeting at sixish in the lobby bar of the Ritz Carlton with my Feigco team — Jessie Henderson and Joshua Thurston — and then Emma Watts, who runs Fox. I drank a glass of Lagavulin 16 with my team, and then I had a Hendricks martini with Emma, along with some almonds. It was a double meeting, and of course, I couldn't have one drink carry over between the two meetings. The Hendricks martini was so incredibly gigantic, too big. I have an issue with the giant martinis that seem to be around in bars that aren't quite as cool as they should be. It's a ten-ounce martini! You're literally drinking a third of a bottle of gin! You're not going to survive that. I walked out of there like Hi-yo! with my head spinning.
 
Dinner was at Il Tinello, one of my favorite old-school Italian restaurants in Manhattan. When I was making The Heat, on the darkest days, whenever I was having a hard time, I'd think, When I'm finally sitting in Il Tinello, I will know I have finished the movie. So I went and got all my greatest hits there: sautéed portobello mushrooms with polenta and just enough garlic, and it's kind of perfect; chicken with prosciutto and mozzarella; Barolo wine; and they do a tableside Caesar salad, which they literally have the little cart and come over. I love it. I love anything that's labor-intensive and kind of a presentation. It's not specifically a spicy Caesar salad, but I have them load it up with a lot of Tabasco, because I like it really spicy, and it's a nice spin — you don't generally get a spicy Caeser salad. It's my speciality. Ask for a "Feig," and no one will know what you're talking about!
 
We headed back, but we ran into more of our team from the movie and the studio. They had taken over the hotel bar, so I went in and had an Armagnac, but I was like, I should not be having this final drink.


Saturday, June 22
I was doing press all day for The Heat. I had a little bit of remorse for the previous night, because I'm trying to lose a little weight, like we all are. But since I am also a fan of high-end tailoring, it's also my diet plan, because I do spend a good amount of money on my suits at Savile Row and have them tailored pretty close. So whenever they start to get really tight, you go, Ah, I got to lose weight! And the suit I put on that morning was pretty tight, so scrambled egg whites and orange juice in my room at the hotel for breakfast, although I still had bacon, because God knows I can't be totally healthy.
 
I rushed back to my room for a quick, light lunch: tomato soup, baby greens salad, and sparkling water. My stomach was too floppy to have a big, heavy meal.
 
The team met down in the lobby bar, and I had a couple of glasses of Bordeaux wine while we were waiting to head off to a fantastic dinner at Del Posto. Originally, we were going to be six people, and other people were like, Hey! We want to go! and suddenly we were twelve people. They were really nice and gave us a special little balcony on a Saturday night, which was not easy for them. We had to wait at the bar, which is where I had an Aperol spritz.
I'm gluten-free, and Del Posto has become the place for total gluten-free living, I must say. They just really nail it. These days, everyone's very accommodating of a gluten allergy, but sometimes they're kind of limited. It's not that they roll their eyes, but other places are enthusiastic about it, and Del Posto is enthusiastic about it, which I love. Their gluten-free pasta is unbelievable. You really can't tell that it's gluten-free — and to me, it tastes even better than regular pasta, in a weird way. It's friendlier, if that makes any sense. So I had the gluten-free linguini with tuna; a swordfish filet with caponatina, toasted sesame, and spring blossoms; then a lamb filet, and Brunello wine, with a chocolate bonbon, rhubarb tart, and caramels wrapped in edible paper for dessert.
Sunday June 23
The junket continued for The Heat, plus this was the day of the premiere. Breakfast and lunch at the hotel were nearly a repeat of Saturday: scrambled egg whites, gluten-free toast, and fresh-squeezed grapefruit juice for breakfast; tomato soup and Perrier for lunch.
 
Before the premiere, it was myself, my wife, and some of our good friends came to our room and we found a half-bottle of Champagne in the minibar and raided that, proceeded to go through that fast. And then we went to someone else's room to raid their minibar! So we cobbled together Champagne out of minibar half-bottles, but they were good.
After the premiere, they had an after-party at the Stone Rose, and it was big and catered and tons of food. But what happens when it's your movie, it's like a wedding, and there is zero time to eat. Everybody's coming up to talk to you and telling you if they like the movie or not, which is great; it's my favorite thing, but I was starving because I was nervous before the movie and couldn't eat, and after the movie, you're relieved and you're like, Oh my God, I'm hungry! but you don't have time. So you end up walking around with a glass of Champagne all night.
 
Then they had an after-after-party over at the Hudson Hotel in the Library Bar, and I was like, I'm starving! You've got to find me something! The kitchen was closed, but they made me a cheeseburger with no bun and these fries that were so great. I literally sat there in the corner like someone's grandmother and ate this sad little hamburger with no bun. And I had to get my Hendricks martini, had a couple of those.
Then we created an after-after-after-party back at the Ritz, and that's where we had Laurent Perrier rosé Champagne — it's a non-vintage, but it's really, really good. And then somebody was kind enough to bring us an order of food, and I sat there and ate all the fries that came with my wife's sandwich. We didn't wrap up until three or four in the morning.


Monday June 24

I didn't have time for breakfast — we slept in really late!
 
Lunch was at Keens. I had a petit filet mignon, steamed broccoli, French fries, water, and decaf coffee. Keens is one of my favorite places. I love anything with old, dark wood — clubby kinds of places. And they're famous for all the pipes on the ceiling, and they were kind enough while I was there to let me sign a pipe. So I now have a signed pipe in the case up front.
 
I was going to be on NPR, and they were doing it out in Brooklyn at the Bell House, and they had some local guy who had these homemade recipes for all these pork things. For a snack, I had pulled pork with no bun, coleslaw, three pickles, with red wine and water. It was the greatest pulled pork I've ever had — the pork was so tender, it had clearly been cooking forever. It's worth finding out who this guy was.
Dinner was at Soho House, a gazpacho-like tomato soup, a raw chopped vegetables salad, and a Whispering Angel rosé. It was such a nice night, we went up to the rooftop and ate up there. This was getting into the ultraregret part of the trip, where I felt I hadn't put anything healthy in my system for days. A guilt-free pleasure.


Tuesday June 25
Slept in again, so breakfast was a handful of chili peanuts and water.
 
Lunch was at 99 Miles to Philly. Katie Dippold, who wrote The Heat, and her boyfriend Drew were telling me about this place, and they said it was the best Philly cheesesteak in New York. And it was unbelievably good. I thought they were going to give me a hard time about no bun, but they said that was fine, and they put it in a little tray for me.
 
We had afternoon tea at Bergdorf Goodman, and our friends wanted to meet there. They had a lot of tea sandwiches, but I had the flourless chocolate mousse cake that was really good. And they won't do anything without Champagne, so the Laurent Perrier rosé hit the table again.
 
Late dinner at Angels Share, which is kind of my favorite bar in New York. It's always packed, and the drinks are fantastic. My favorite thing to do, weirdly, is to go by myself and just sit at the bar, because the Japanese bartenders are the most beautiful performers to watch, the way they make the drinks with such precision. It's like watching a dance recital. I had the Serenity, which is lychee, grapefruit, and vodka. Two of those, and tsukune chicken balls, pork sausage, and pickled vegetables.


Wednesday June 26
I was appearing on the CBS morning news and didn't have time to eat at the hotel. They had chamomile tea and a fruit plate in the green room, so I grabbed a slice of pineapple. My assistant Josh had a Kind bar in his bag that he's been carrying around, so I ate that because I didn't know when I'd be able to eat next — we call it Feig food.
On the plane to L.A. it was a choice between the turkey sandwich (not gluten-free) or the chilled Mediterranean prawns. I like my food to be warm, but I got the prawns with salad and a fresh fruit cup for dessert. Also, warm almonds and cashews and Cabernet Sauvignon.
Because those airplane meals aren't that big, I was kind of hungry when we landed, so we went to Olive and Thyme by our house in Burbank. I got a vegetable salad with chicken.
We were planning to eat healthy when I got back, after all the overeating on this press tour, but I was doing Jimmy Kimmel, and we had a driver, and so we were like, Why not? Let's go to Gardens of Taxco! It's our favorite Mexican restaurant, and we thought, We can have margaritas and we don't have to drive home! But I overate so badly — chips and salsa, quesadilla with guacamole and salsa, green salad, margarita-pie appetizer, spicy shrimp, garlic shrimp — I thought I was going to be the guy who dies when his stomach explodes. I came home and I was like, This is the stupidest thing I've ever done. But it felt right to go there. We wanted to celebrate.
Related: And Now, 7 Amazing Outtakes From Paul Feig's Diet Photo Shoot