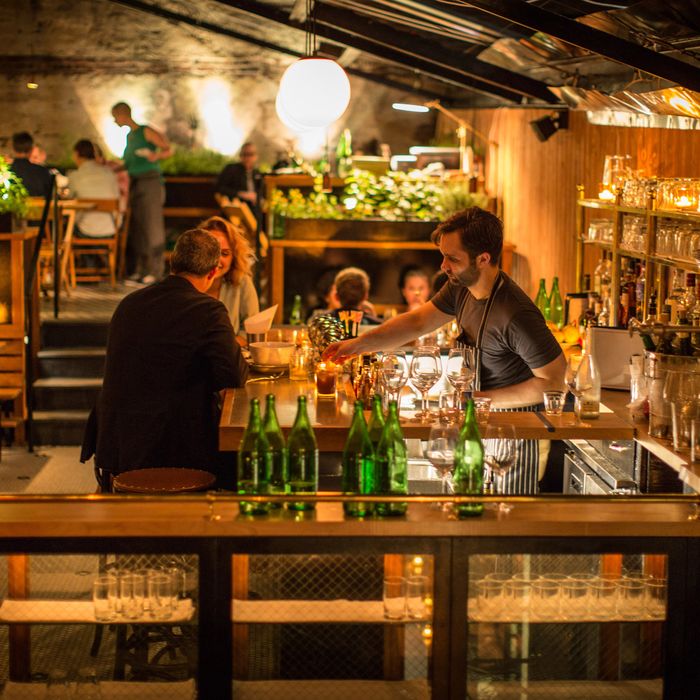 Sexy time at Montmarte.
Photo: Henry Hargreaves
On the off chance that it's not pouring rain in the city — a depressingly frequent occurrence this year — you'll want to act quickly and enjoy the nice weather by eating outside. But since this is New York, "outdoor seating" can mean that you're at a table that overlooks traffic and you're breathing in fumes and shouting over honking just for the sake of getting some fresh air. That doesn't have to be the case: It should be pleasant and relaxing to sit outside in the summertime, and the good news is that there are a lot of new restaurants that understand this. Here are fifteen spots where you can enjoy various meals in the sun, ensuring that no matter who you're with or when you're eating, you can properly savor the season.
The Meal: Weekend Brunch
The Cleveland: The Nolita restaurant's outdoor garden is filled with fresh flowers, foliage, and neon chairs. It's a delightful setting to enjoy new chef Tal Aboav's banana pancakes.
Buvette: The small outdoor patio tucked in the back of the restaurant only has room for a handful of two-tops, creating a feeling of privacy that you don't often find in the city. There's a new brunch menu that includes dishes like steamed scrambled eggs with caviar and almond-butter toast with raspberries.
Gran Electrica: Breakfast tacos, chilaquiles, and horchata make for an awesome brunch — especially when you're sitting on the pretty outdoor patio.
The Meal: Weekday Lunch
SmokeLine: BrisketTown's Daniel Delaney is behind this new spot on the High Line. He's serving smoked-meat sandwiches (with pepper-smoked brisket!) and ribs. This pop-up's only around until October 18.
Fritzl's Lunch Box: Dan Ross-Leutwyler's (formerly of Roberta's and Fatty 'Cue) is behind this casual Bushwick spot. The backyard cement patio can seat 25 diners and is decorated with colorful floral tablecloths. Order the fried chicken or soft-shell crab sandwich and spend the whole day lounging.
The Plaza Café at Rockefeller Center: It's easy to escape your midtown office for a business lunch at this al fresco café. Laurent Tourondel's overseeing the menu.
The Meal: Romantic Dinner-Date
The Backyard at the Pines: Angelo Romano is offering a special menu of wood-fired dishes, so you can enjoy your date's company while eating lobster with lardo and vanilla butter.
Montmartre: Pete Wells deemed Gabriel Stulman's spot the "most-improved" restaurant, and now the pretty outdoor space, which is a lot less crowded than the dining room, is open.
L'Apicio: Linguine with clams, roasted chicken, and a bottle of rosé will pretty much seal the deal — but a good Italian meal is even better when enjoyed at one of L'Apicio's outdoor seats, sectioned off from the sidewalk with heavy-duty planters.
The Meal: Dinner With Friends
Blue Ribbon Beer Garden: The LES Thompson Hotel now has a terrace complete with board games, Ping-Pong, barbecue plates, and a selection of international beers and cheap wines. For $15, you get a choice of barbecue Cornish hen, ribs, or market vegetables, which are all paired with cornbread, coleslaw, and bean salad.
Distilled: Momofuku Noodle Bar alum Shane Lyons is making fried duck and waffles and beer-battered onion rings at this new Tribeca restaurant. The hearty bar food is perfect to enjoy on the restaurant's huge elevated outdoor patio.
Hawker Bar: This Southeast Asian restaurant in Prospect Heights has an intimate patio with Chinese lanterns and rustic wood benches. Go with a group and share pad Thai, pork-belly buns, and grilled chili Montauk squid family-style. There's an impressive cocktail menu, too.
The Meal: Drinks and Late-Night Snacks
Pod 39 Hotel Rooftop: This penthouse bar has been around since last year, but this summer, it's offering Salvation Taco's guacamole and chips, too.
The Standard Plaza: New this summer is an open area in front of the hotel, where the Best Pizza team is making wood-fired pies. Even better: The food's served on a first-come, first-served basis, and it's open until 1 a.m. on weekends. Hit the biergarten after with your party posse. (No judgement.)
Battery Harris: This craft beer and cocktail bar opened in Williamsburg in May, and it has a big courtyard with colorful beach chairs. Drink a frozen Dark and Stormy, wash it down with jerk chicken and coconut cornbread, and then go join the nightly dance party.