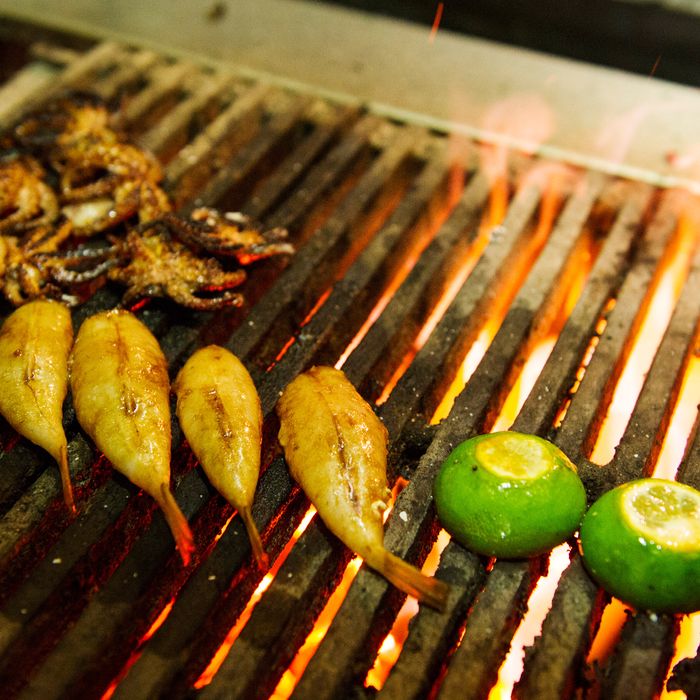 Blowfish and octopus over the fire at Uncle Boon's.
Photo: Evan Sung
This is the season to set up a grill on your rooftop or in your yard, invite a big group of friends over, and spend all day and night firing up barbecue ribs, oysters, corn, and brown-sugar peaches. Sounds pretty perfect, right? But you live in New York, and that means your tiny, overpriced studio apartment doesn't include access to any kind of outdoor space. The good news is that plenty of restaurants around town can do the heavy-lifting for you this summer: Uncle Boon's is grilling blowfish tails, Backyard at the Pines is throwing all of its dishes onto a wood fire, and Takashi lets you grill your own tongue. Read on for a list of other crazy grill specials that will satisfy your life-fire cravings, straight ahead.
Takashi
Meats are brought to your table raw and skewered so that you can cook your own food using the built-in grills. If "Testicargot" (escargot-style cow balls) aren't your thing, you can get short ribs and sweetbreads. It's pretty much exactly like grilling at home — plus some "premium super-thick tongue."
Uncle Boon's
Two Per Se vets are behind this popular, Power Rankings–stamped Thai spot in Nolita. There's a whole section of the menu dedicated to "charcoal grilled goodies," which include baby octopus, head-on prawns, and blowfish tails. All of those simply prepared dishes come with lime, garlic, and chili dipping sauces that add a spicy kick.
Mas (la grillade)
Open-fire cooking is this West Village restaurant's specialty, and all the food is locally grown and sustainably raised. The current menu includes grilled squid stuffed with bay leaf, soft-shell crabs, pork confit, and wild-ramp polenta.
Backyard at the Pines
The Pines opened up its outdoor space in mid-May, offering a special backyard menu of dishes that are all grilled over a wood fire. The menu's still evolving, but it has included grilled halumi with ramps and celery mustarda, filone bread with nduja sausage and figs, and octopus with smoked beef. Note that it's only open Thursday through Sunday.
Reynard
Andrew Tarlow's chefs rely on the kitchen's big grill to sear oysters, tilefish, greens, and seasonal fruits. And after you're done eating, you can head upstairs and enjoy the Wythe Hotel's pretty rooftop. It's just like you're at home (a much fancier, more expensive version of your home).
Glady's
Morris Grilled Cheese's owner opened this restaurant in Crown Heights in April, and in the center of the restaurant is a big wood-fired grill. He's making — wait for it — grilled cheese sandwiches over the open flame, as well as wood-fired octopus and pork loin.
Pok Pok Ny
Andy Ricker got his start by grilling chickens with lemongrass in his Portland driveway. So of course his outdoor kitchen in Pok Pok's backyard includes a charcoal grill, which he uses to make Chiang Mai sausage, eggplant with a Thai chili dressing, hen, catfish salad with fresh galangal, and tons more. This place is always fun, but it thrives in the summertime.
bZ Grill
This no-nonense neighborhood place is considered a go-to for gyros. Order the mixed grill platter for two: It comes with chicken and pork gyro, bifteki gemista (burgers stuffed with goat's-milk cheese), sheftalia and loukaniko sausages, and fries.
St. Anselm
Grub's a big fan of this Best of New York–winning steak. All it needs is a bit of salt and garlic-steeped butter to make it pretty much perfect. Better yet: The cooks use the grill to fire things like clams and avocados too.
North End Grill
Danny Meyer's Battery Park City spot boasts both a charcoal-fired grill, which is used to cook fish (sea bream, lobster, soft-shell crab, and mahimahi with bacon), and a wood-fired grill for meats (pork chop, beef tenderloin, rib eye, and chicken). Make sure you get some grilled shishito peppers and Greenmarket sugar snap peas to accompany your proteins.
ABC Cocina
There's an entire section of the menu devoted to dishes made on the restaurant's wood-burning grill. The maitake mushrooms with goat cheese isn't the flashiest dish here (that award goes to the roasted Maine lobster rice), but it's one of the best (critics agree). And you can never go wrong by ordering spicy glazed baby back ribs.
Manzanilla
The bacalao entrée (fresh salted cod) is grilled and served with potatoes, tangy yellow piparra peppers, and a citrus pil-pil sauce. Manzanilla's also grilling hanger steak, bone-in New York strip, and bone-in rib eye, and serving the meats with foyot, romesco, and mojo verde sauces.
Biang!
The more upscale offshoot of Xi'an Famous Foods makes all kinds of skewered meats on a charcoal grill, including spicy cumin beef, chicken gizzards, and quail. Squid and "fish-based tofu" get tossed on the grill, too.
Balaboosta
While you're waiting for Einat Admony's newest restaurant to open opposite Abingdon Square Park (where the Underground Gourmet reports she'll make grilled dorade and "New Israeli" fare), revisit her Nolita restaurant and order grilled eggplant bruschetta, lamb chops, asparagus, and a similar-sounding dorade dish with grilled ramps.
MP Taverna
Michael Psilakis opened his latest Greek restaurant in April, and this massive Astoria spot has 150 seats and an outside patio that can fit 100. Prawns, branzino, swordfish, salmon, and chicken are all simply grilled — and better yet, the prices for the entrées are under $20.
Fish & Game
Zak Pelaccio (of the Fatty 'Cue empire) is behind this locally driven restaurant up in Hudson. If you're up there, you can probably find a grill easily, but he's outfitted his new spot with several salvaged fireplaces, a smoker, a grill, and a wood-burning oven. Pro tip: Grab a Zipcar and make this a summer road-trip destination.