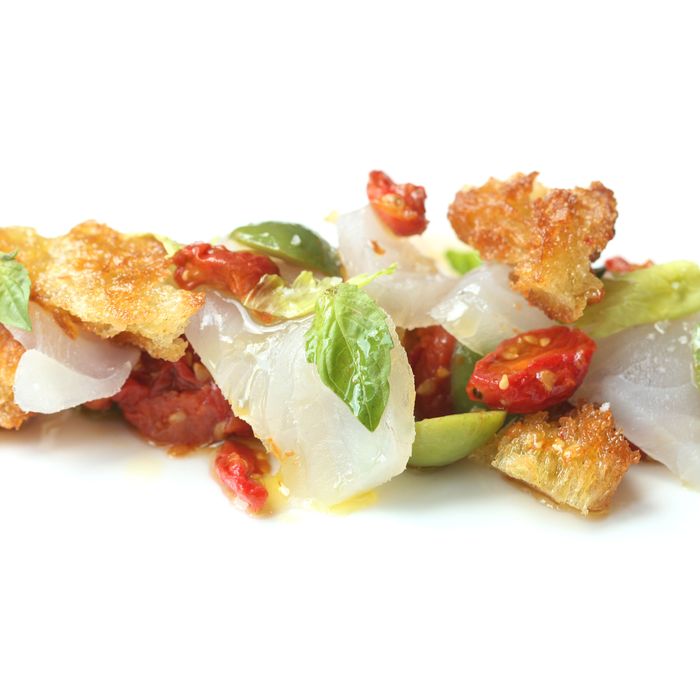 At Costata, fluke crudo comes with tomato confit, olives, and basil.
Photo: Melissa Hom
Not so long ago, "raw fish" in New York meant sushi or sashimi. No longer: Rich Torrisi and Mario Carbone surprised everyone this month when they ditched their plans for a club-sandwich spot in favor of a reservations-only raw bar. But it was a good call: Preparations like crudo and ceviche have quickly gained on sushi as New Yorkers' preferred go-to raw (and almost-raw) fish options, especially when it's 90 freaking degrees outside. Dave Pasternack and Mario Batali kicked off the Manhattan crudo craze at Esca in the very early aughts, but more than a decade later, the movement is having another moment: ZZ's Clam Bar is one of the flashiest restaurants offering some of the fanciest crudo; Desnuda just opened a second location; and the recently opened Mezini, the Fourth, and Charlie Bird are all dressing up raw fish (and, unlike ZZ's, actually have tables available). Here are fifteen restaurants to add to your summer hit list.
ZZ's Clam Bar
If you do manage to score one of the twelve seats here, opt for the made-to-order shrimp ceviche and the beef carpaccio with sea urchin and caviar.
Alameda
At this Bed-Stuy spot, scallop crudo comes with strawberry-rhubarb vinaigrette, and raw fluke is served with late-harvest apple vinegar. Awesome.
Desnuda
This wine bar and cevicheria recently opened a second location in Williamsburg. The menu of "traditional and non-traditional" ceviches includes sea urchin roe on top of fresh mission figs, with jump-lump blue crab meat. Or you can play it safe and opt for the equally excellent mix of salmon, tuna, and prawns with cinnamon and pineapple.
Mayfield
Over at this Crown Heights restaurant, local fluke ceviche is dressed up with the addition of grapefruit, mint, and pickled fresno peppers. The raw shrimp ceviche is paired with citrus tomato marinade and cilantro.
Mezini
This new South Slope restaurant prides itself on its raw bar, guaranteeing same-day catches. Oysters, clams, shrimp, lobster, and crab are available à la carte, but if you can swing it, go big and get the Mezini seafood platter for a cool $100.
Maison Premiere
The Williamsburg spot was once known primarily for its oyster selection, but now it's specializing in composed raw-fish plates like arctic char crudo with beet, cured egg, and caviar, and sepia with yogurt.
Charlie Bird
Chef Ryan Hardy and sommelier Robert Bohr's Italian-ish restaurant offers crudo (striped bass and, sometimes, a scallop special) with rich brown butter. For something lighter, there are razor clams with pickled chiles, and Long Island fluke with pickled almonds.
Costata
Even steakhouses are getting into the crudo game. Michael White's restaurant offers nine different variations, which include sea scallop with celery root and black-truffle vinaigrette, and sardines with chickpea pesto and lemon — light bites before you tackle a rib eye.
Maiden Lane
Full disclosure: The "raw" fish at this Avenue B all-day café is smoked and cured. But the nova, peppered bluefish, and canned scallops are outstanding, and here you can sample a ton of uncooked fish for $20.
Estela
A dream team of Botanica owner Mark Connell, former Blue Hill at Stone Barns beverage director Thomas Carter, and Uruguayan chef Ignacio Mattos is behind this new Nolita spot. Though crudo isn't the group's focus, it should be: Raw scallops with citrus and bronze fennel is a must-order dish.
ABC Cocina
Raw shaved fluke with green chili dressing, mescal-cured salmon with golden potato flakes, shrimp with banana and almonds, and grilled tuna sashimi make up the "light & bright" section of the menu. Platt says it's "some very good crudo."
The Bounty
The folks behind the Drink are also behind this new seafood restaurant and classic cocktail bar in Greenpoint. The menu changes according to what's in season, but you can count on littleneck clams, East Coast oysters, and marinated mussels en escabeche as part of the raw bar.
The Fourth
Tucked inside the Hyatt Union Square is a new restaurant from the duo behind Tocqueville and 15 East. The three varieties of crudo vary daily, and tonight they are Copper River salmon, yellowfin tuna, and lobster.
Preserve24
This kooky Lower East side restaurant-meets-art-installation has an awesome-looking oyster bar. Besides oysters from Long Island and Virginia, you'll find peel-and-eat shrimp, tuna tartare, a spicy lobster-claw salad, and a market-driven crudo dish. A $95 platter includes the whole shebang.
Main at the Square
Worthy of a road trip: Chef Keith Luce worked in the White House in the nineties, and he's behind this Greenport restaurant. The grand platter offers a sampling of "seasonal delicacies of the sea," which change daily.