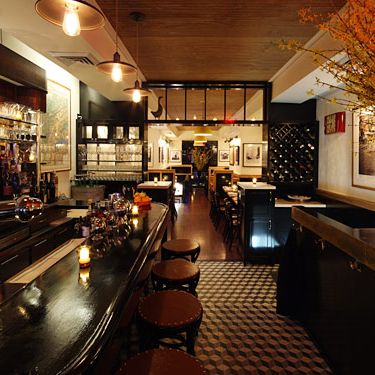 "The effect was transformative."
Photo: Melissa Hom
This week, Adam Platt awarded three stars to Alder, saying Wylie Dufresne's cooking "has a refreshingly seamless quality to it." He suggests ordering the clam chowder, fried quail, and root-beer pudding. Pearl & Ash, an "unassuming downtown restaurant that delivers more than it promises," received two stars from Platt. Meanwhile, Pete Wells revisited Montmarte, applauding "transformative" changes by Tien Ho, while Joshua David Stein filed on the product-placement perfection of ABC Cocina. Where did the other critics dine? Read on to find out.
Pete Wells gave Gabriel Stulman's Montmarte a second chance this week, calling it the "most improved restaurant of the year so far." Changes to the menu since Wells's first visit were so "transformative," it was "as if National Grid had finally turned on the gas." Wells notes the "tightly assembled cocktails" and calls the pot au pho Ho's "cleverest and most dramatic Eurasian marriage." Though the dining room's so cramped "you can find yourself playing Twister with servers," Ho's "Asian trick of playing blood against fire made each bite as powerful as the first." Two stars.
Joshua David Stein ventured to Jean-Georges Vongerichten's ABC Cocina, which is "tremendously inventive," but also "an advertisement for ABC Carpet & Home." He says "everything I did try was excellent" on the "large but simple" menu. That includes a maitake mushroom dish that combines a "woodsy meatiness" with a "tempering creaminess," and a glazed short-rib tacos "set off an interplay among the sweet char, the corn masa and the epic crunch of a frizzled onion."
Shimmying over to Harlem Shake, Steve Cuozzo tried "Mayor Bloomberg's death-by-diabetes nightmare." He quipped about the Harlem classic with cheese: "The Golden arches never knew beef so richly flavorful." The fried, buttermilk-brined chicken sandwich "tasted like real chicken," the "breast meat moist and crisp-breaded." The service was questionable, but Steve predicts "al fresco seating will be set up on the wide sidewalk next month." Two stars.
The Daily News' Michael Kaminer filed on the Fourth, noting that the new American restaurant in the Hyatt Union Square "feels out of place" downtown. The "meek" menu seems as though it's been "vetted by a committee," "with just enough Food Network flourishes to excite out-of-towners." "Anemic starters" like the cured tuna and Bibb lettuce salad are more "weirdly fussy" than "artisan," and "even earthy dishes come across sanitized." But Kaminer admits that "main courses do much better": The salmon with sorrel yogurt "makes a soothing summer plate" and he likes the roasted pork belly, too. But his biggest tip is: "The simpler a dish sounds, the better it is." Three stars.
Ryan Sutton went to Prime Meats, calling the dry-aged rib eye "the luxury it's priced to be — $142" (which is more than Minetta). The "kitchen has improved" since Sutton's one-star visit in 2010. The restaurant is still "gorgeous," but now the suckling pig is "light and soft" and the dry-aged beef sausage "gives diners a chance to experience the musky taste of a New York strip in the form of a bratwurst." Noting he's "already a regular" at the reinvented four-year-old spot, Sutton calls it "as comfortably worn as one that's forty."