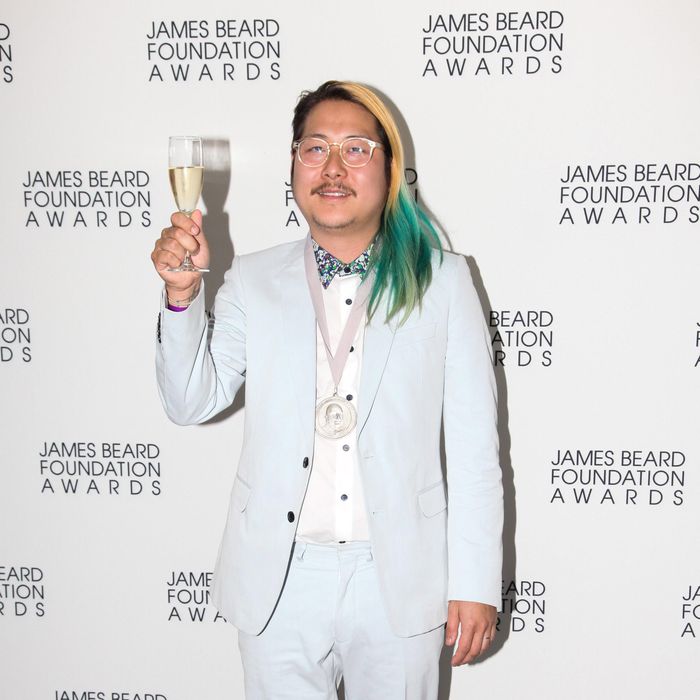 Bowien doesn't cook in these clothes.
Photo: Paul Porter/BFAnyc.com
Bowery Boogie hears that the Mission Chinese Food team presented plans for a new, "Mexican Chinese" restaurant to take the place of Noodle Bar on the Lower East Side at the very tail end of Monday night's CB3 Manhattan liquor license meeting. If this is indeed NYC's second Mission Chinese Food, it'll be opening a few doors down the block from the original — so could this possibly be true?
It turns out that Noodle Bar will close for good this Sunday after a five-and-a-half-year run at the corner of Orchard and Stanton Streets. We're sorry to see it go.
Meanwhile, Danny Bowien has already discussed expansion plans for San Francisco, Oklahoma City, Paris, and Brooklyn, so clearly he's got a lot going on. Last month, the chef hinted that a second Manhattan location of the hit restaurant might be up next, and Food Arts reported earlier this month that another Mission Chinese Food was opening specifically on the Lower East Side.
Paperwork filed for the incoming applicant, identified in the official CB3 questionnaire only as Scott Kasen "on behalf of an entity yet to be formed," is light on details; nonetheless, Bowery Boogie reports the mysterious applicants were approved for wine and beer for the address, which is in an area saturated with bars and restaurants. File under "interesting."
Grub Street has reached out to Mission Chinese Food, and we'll let you know what we hear back.
Report: Mission Chinese Food Taking Over Noodle Bar on Orchard [Bowery Boogie]
Earlier: Rising Star Chef Danny Bowien on New Restaurant Plans, Air Jordans, and Love for Tosi