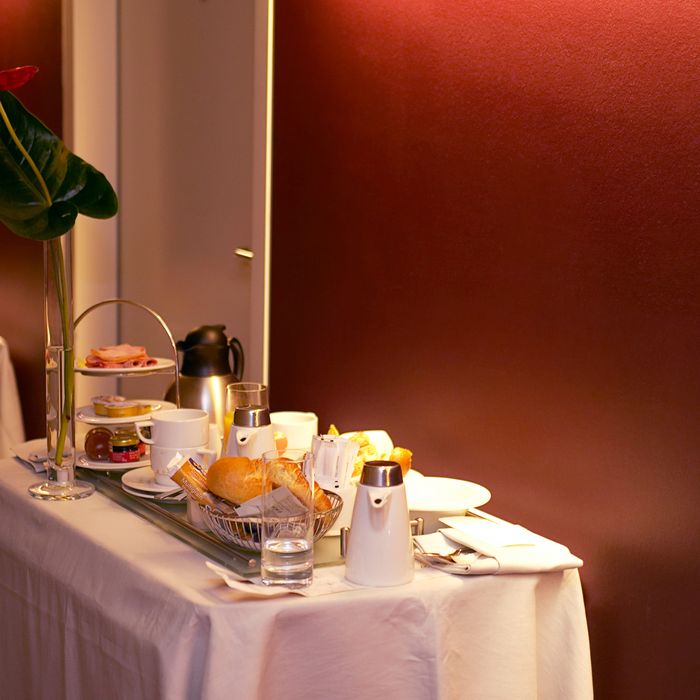 Despite exorbitant prices, hotels lose money on room service.
Photo: Tomas Rodriguez/Corbis
Crain's says that in August, the midtown Hilton will eliminate its room service and instead offer guests "a downmarket grab-and-go restaurant" called Herb n' Kitchen. (Say the name out loud to get the full effect.)
The reason: Despite the fact that a Hilton room-service omelette costs $24 and a club sandwich goes for $22 (plus a mandatory 22 percent service charge and a $5 delivery fee), the hotel doesn't make any money off room service.
In fact, no hotels make money off room service. The prices alone mean the only people that really even get room service are business travelers or people who have money to burn — and it seems Hilton has discovered that at its hotel, anyway, there aren't enough of those kinds of guests to make it worthwhile.
And so, a Hilton rep tells the Times that the chain is evaluating room service at its other hotels "on a case-by-case basis," which means this almost certainly won't be the last of their hotels to lose the amenity.
But have no fear, high-rollers and work travelers headed for New York: Plenty of the city's other hotels still offer room service. In fact, the Pierre even offers a pet room service menu.
Hilton ends room service in favor of grab-and-go grub [Crain's]
Sorry, Eloise. No More Room Service. [NYT]