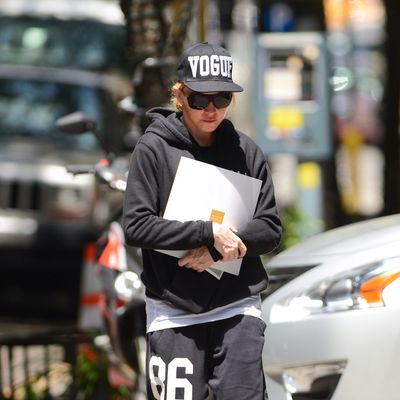 MDNA isn't so covert when she's enjoying PDA.
Photo: Ray Tamarra/Getty Images
In Celebrity Settings (and in America), this was the week of the power-women: Madonna, Adele, Carla Bruni, Julia Roberts, and Heidi Klum were all spotted dining around the city. David Blaine perfumed magic tricks (or whatever it is he does) for Adele, Klum chowed down on spaghetti with her kids, and Jessica Alba partied with a gaggle of professional athletes. All this, and more, in this week's roundup.
Antica Pesa: The Queen of Pop (Madonna, duh) was spotted in this Williamsburg restaurant canoodling with her 25-year-old boyfriend. Brahim Zaibat allegedly put his "arm around her," and they kissed "a few times." [Page Six/NYP]
Bar Pitti: Heidi Klum stopped by the West Village eatery with her kids on Monday and ate lots of pasta. [HuffPo]
Catch: Jessica Alba met up with a gaggle of NBA pros at the restaurant and danced the night away on the roof. [Page Six/NYP]
Catch: Later at Catch, David Blaine impressed Adele. The magician stopped by to perform some tricks illusions for the new mom while she was out celebrating the birthday of One Republic's Ryan Tedder. [Page Six/NYP]
Fred's: Twin NFL centers Mike and Maurkice Pouncey were seen downing lobster bisque, calamari, and cheeseburgers at the classy lunch spot. [Page Six/NYP]
Greenwich Hotel: Katy Perry and sometimes-boyfriend John Mayer were seen smooching around town all weekend. The duo hit up the Greenwich Hotel on Saturday and a gala at the Waldorf Astoria on Monday. [People]
The Lion: Reclusive pretty woman Julia Roberts and her husband were spotted at the Greenwich Village restaurant on Monday. [Page Six/NYP]
Nino's Ristorante: Alicia Keys enjoyed a romantic date night with husband Swizz Beatz by the restaurant's piano. [Page Six/NYP]
Prime Grill: Billy Crystal ate dinner with Yankee Mark Teixeira and former New York Knick Baron Davis at the new hot spot in the Bentley Hotel. [Page Six/NYP]
Royalton: France's former first lady Carla Bruni showed off her second career as a singer this Wednesday. [Page Six/NYP]