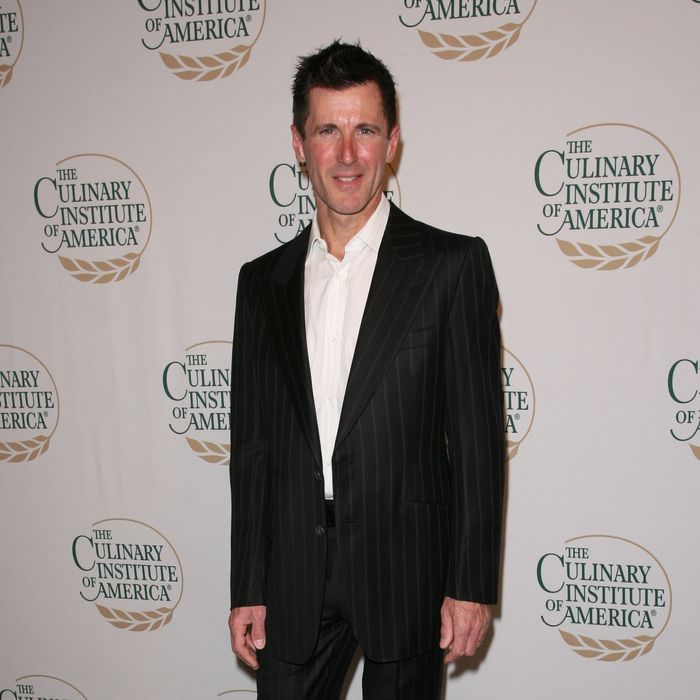 Laurent Gras has been working on a New York project for a while.
Photo: EUGENE MIM/Patrick McMullan
A Craigslist ad for a new restaurant in midtown seems to indicate that the French chef Laurent Gras may be cooking in the kitchen at Enduro, an "American grille" opening later this summer at 919 Third Avenue, in a space that was, somewhat delightfully, an Outback Steakhouse. Even more interesting is that the forthcoming restaurant, which was first announced last summer, will be opened by the third-generation owner of Junior's Cheescake. Does it sound improbable that a chef of Laurent Gras's caliber, or any other Michelin-lauded professional, would end up there? Yes, yes it does.
But here it is: An ad posted today on Craigslist, which calls for front-of-house staff, indicates Enduro will have a more serious culinary pedigree than one might expect, stating: "Our executive chef earned 3 Michelin stars at his previous restaurant in Chicago."
Because the Michelin Guide released its inaugural Chicago edition just three years ago and there have only been two three-starred restaurants to date, possibilities immediately narrow down to three: (1) The chef at Enduro is Laurent Gras, who was awarded three stars in the 2010 Michelin Guide for his work at L2O. (2) Someone who was in a top position at Alinea, but has since left (like Matt Chasseur), is the chef at Enduro. (3) The wording in this Craigslist ad is inaccurate. So which one is it?
Appearing in front of the community board last year, owner Alan Rosen told those assembled that the forthcoming restaurant was a reference his grandfather's pre-Junior's days. "Pricing would be moderate," he explained. "Portions would be generous."
Would Gras, who earlier this year won an IACP award for his innovative e-book My Provence, now turn his attention to baked potatoes and iceberg wedges? What kind of food does an American grille serve, anyhow? (The restaurant, which is on OpenTable, only indicates prices will be "$30 or less.")

The former L2O and Peacock Alley chef shocked everyone when he abruptly left his Chicago restaurant in 2010 and moved to New York. Shortly thereafter, Gras announced he was planning a new restaurant, telling the Times he wanted to do something "more casual and more fun." And after years of rumors, wishful thing, and pop-ups, well, there hasn't been much news to report. Gras still tops Eater's list of New York's "top free agent chefs," but have things changed?
Update: It appears this kitchen will be Gras-free. Commenter NYC117 points out that Nathan Huntington, who cooked at L2O in Chicago and also worked for the BLT Group in New York, will be Enduro's executive chef. Huntington left his executive chef post at Chicago's Argent Restaurant and Raw Bar in April.
Enduro is coming!!! Looking for all front of house positions. [Craigslist]
Earlier: What a Wonderful Swirl: Junior's Opening New Concept in Midtown East
Earlier: Matt Chasseur Steps Down As Alinea's Chef de Cuisine