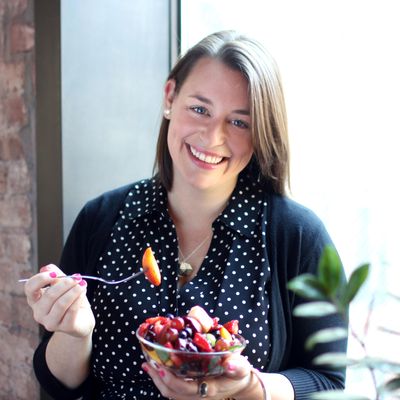 Pelka, with breakfast at the Tumblr offices.
Photo: Melissa Hom
As Tumblr's official Food and Drinks Evangelist, Jen Pelka has a job that involves a lot of eating. "I work with the food and drinks community, broadly," she says. That means she's constantly working with TV shows, food magazines, chefs, and producers to get their messages across on the blogging platform. Or, as she puts it: "I try to think of it as helping all the cool kids to use Tumblr really well." The side effect of working with so many people in the industry, of course, is that it means Pelka gets to do things like fly off to Austin and Aspen in the same week for separate food-related festivals, and hit spots such as Empellón Taqueria, Riverpark, and Lafayette while she's in town (that's three consecutive nights, by the way). "My job is totally fun," she admits. Read all about it in this week's Grub Street Diet.
Friday, June 7


I was in Austin for BlogHer Food, a — you guessed it — lady-food-blogger conference. First thing Friday morning, I had an 8:30 a.m. call with the Food & Wine team to finalize details about this weekend's Aspen Food & Wine Classic. They're flying four of our bloggers to live-blog the festival from their Tumblr. I had a pot of coffee (black, no sugar) and some mixed berries from room service. During the work week, I try to do Mark Bittman's "vegan before six" since I basically eat for a living.
Before heading into a talk on "alternative social network platforms," I grabbed a mint tea and a sample of veggie millet salad, which the guy at the Bob's Red Mill booth described as a "spring roll without the roll."
At the lunch break, I picked up a sad salad and settled into the "Lentil Lounge Hospitality Suite," but then cookbook author Caroline Wright and I decided to track down a better option. We found Daruma Ramen a block away, where I had a totally delicious vegan ramen — avocado is the new pork fat — with half-moons of baby tomatoes and pickled carrots shaved like curly noodles and a rich veggie broth. And — only in Austin — roasted soy bean soft-serve in cake cones (those ones that crunch like styrofoam).
Next up, I met with two Austinites in the sunny backyard of Craft Pride, a Rainey Street bar with 50 Texas beers on tap. I had two session-style "wits" and some post-6 p.m. bacon gravy fries from the Bacon Bus out back. The ruling: light on bacon, heavy on disco.
We heard that Paul Qui's new restaurant Qui was kinda-sorta secretly open to the public, and we bolted over. It's gorgeous. We got drinks at the bar, and I totally loved my "Lena Dunham Super Nightlife Mule" — a boozy ginger beer concoction that you sip through a lemongrass straw.
Dinner was spectacular. We started with the "Ode to Michel Bras" — a silky chilled garlic dashi and perfect little Austin-raised vegetables. Next up was the "Salmon Butter" (Paul told us to "smush it like cat food and spread it") — salmon confit with crème fraîche, egg, ramps, and roe with crispy crackers — and the value bet on the menu: a $4 "banchan" of green tomatoes compressed in something delicious, a smear of something creamy and sprinkling of something crunchy.
Then the "Street Urchin" — Mexican-style corn smothered in brown butter corn nut dust and shaved uni bottarga, which is exactly as delicious as it sounds. The real stunner is the "Rabbit 7 Ways." It's a multi-course tableside preparation that starts with an intense rabbit consommé poured into a white ceramic mug with a rabbit tail as a handle. Then a play on rabbit food: a bowl of leafy garden greens you use as lettuce wraps for rabbit ballotine and some sort of smooth paté, and little roll-ups of steamed greens. For dessert, we had the "Coconut Snow Cone" — a beautiful mess of coconut snow, peanut pralines, and cajeta. It was such a delight to be in that room with Paul bouncing around so happily from table to table.
After dinner, we hopped next door to Liberty, a dirty dive bar under a tattoo parlor, where we drank cheap canned beer with a bunch of locals until I had to go home and go to bed.
Saturday, June 8


Water, coffee, Internet, shower, more coffee.
Once alive, I headed to Elizabeth Street for my favorite Austin morning: The Times and a breakfast bánh mì. It's scrambled eggs, avocado, pork sausage, cilantro, and creamy adobo mayo on a crunchy baguette. This was a two-beverage kinda morning: Topo Chico (my fave sparkling water) with lime and crushed ice, and their outstanding Vietnamese coffee — ground chicory beans brewed cup-by-cup in a tin can over sweetened condensed milk and a side of crushed ice. Crushed ice is a revelation.
I zipped back to the conference for a final talk, then headed out to the airport. Bye, Austin. Keep yourself weird!
On the plane, I had a seltzer, no lime ("Sorry, hun, we only have powdered lime." What's powdered lime!?) and some surprisingly delicious dried apricots from the conference swag bag.
I got home around seven and pulled three cold zucchini-turkey meatballs and a bottle of rosé from the fridge, turned on an episode of "This American Life," and got down to making dinner: lemony pasta with asparagus, zucchini, cippolinis, garlic, a whole mess of herbs, and some brown buttery pumpernickel bread crumbs.
After I dug into that pasta, I got a hankering for something sweet. I subscribe to an awesome farmers' market delivery service called Quinciple, and this week's box included weird-sounding rye flour, chocolate, and coconut oil cookies. They were actually unbelievable. I ate one … then another … then another …
Sunday, June 9


Water, coffee, Internet.
Breakfast was in the company of Jon Stewart's last Daily Show for a while: more coffee and a bowl of chia pudding, sliced plum, and chopped fried Marcona almonds. Chia pudding is like magic tapioca: You put chia seeds in a jar with almond milk, maple, and cinnamon, shake it up, refrigerate, and eat for breakfast all week.
I spent the morning running errands, and lunch was a quick kale salad and rabbit leftovers from Qui.
Around three, I popped over to Soda Bar in Prospect Heights for a friend's birthday — a bring-your-baby-to-a-Brooklyn-bar kind of affair. I had an Ommegang Witte beer and a piece of cake: golden yellow box mix, milk chocolate frosting, and rainbow sprinkles.
I zipped back to my apartment to get cooking. I had invited a few friends over for dinner, just a fun summery get-together.
People started showing up and I put out some quick, easy appetizers: Jasper Hill's Landaff cheese and sea salt crackers, Knockwurst cooked in beer with a side of grainy mustard, and this gorgeous, droopy burrata over a super-chunky pesto of basil, lemon, and toasted almonds. The trick is to leave it really rough-cut so you get a lot of texture against the burrata's gloppiness.
I opened a few bottles of rosé to get the party started. My friend Emily Wells wanted to recipe test a cocktail for her blog, and it was killer … a twist on a pisco sour using barbeque bitters. You wouldn't think it could work, but it did.
I made a spicy watermelon-tomato gazpacho with chopped fried marconas from Daphne Oz's Relish, my favorite entertaining book of the year, which someone remarked was "just like a juice cleanse, but with deep fried nuts." Story of my life.
We did dinner family style: cod en papillote with spicy red pepper flakes, dill, lemon slices, and big, fat capers; that pasta salad from last night, and grilled red romaine with an anchovy-green garlic dressing. My friend brought a Vermentino for the gazpacho and a White Burg for the fish.
After dinner, we hung out in the living room and someone sabered a bottle of Schramsberg out the back window. This is kind of a tradition at my place. I made lemon-thyme ice cream and we ate that with grilled figs.
Monday, June 10


Water, coffee, and chia pudding with sliced figs while I watched Morning Joe.
I headed into work, and drank another cup of coffee while e-mailing with the Noma/MAD Fusion team about their plans to live-stream the conference in August through Tumblr.
At 1:30 p.m., I was backed up on e-mails and needed something fast. I ducked into Rhong Tiam next door. A sign for brown rice with chickpeas and cabbage salad promised "Super express meal in 2 minutes designed for on the go rush hour." It took 27 minutes. I also got a fresh watermelon juice that was bright and pulpy and not too sweet.
Around five, I split an Asian pear from my Quinciple box with some of my pals at work.
For dinner, I met a friend at Empellón Taqueria, where we had a bright spring pea salad and scallops with mango and mustard seeds. For the tacos, we opted for a DIY surf-and-turf of lobster and steak. Those were, predictably, delicious.
Back at home, I snuck some MilkMade corn ice cream, which is basically summer on a spoon.
Tuesday, June 11


I totally failed at my vegan-before-six on Tuesday: I kicked off the day at a morning meeting at Balthazar: two soft-boiled eggs with toast soldiers, the infamous $9 half-grapefruit and coffee, and sparkling water with lime.
Afterwards, I dropped by Dominique Ansel's bakery. I know Dominique from when I worked at Daniel, and I just wanted to see how they were doing in the maelstrom. One of the pastry cooks was sitting with two iced coffees in front of her listening to a guy yammer on about "free cocaine and pastries from God" conspiracy theories while organizing her mise en place for the week. Since it was 10:30 a.m., they were obviously out of cronuts, so I picked up a half-dozen DKAs for the office instead.
Lunch was a pretty lame mixed greens and roasted veggie salad, but when I got back to my desk there was a sample of Dana's Bakery's new neon collection macarons, and I had the pink one. I blame the salad.
That night I went to an event at Riverpark, the Tom Colicchio restaurant along the FDR with a massive working farm. They're doing things like growing tomatoes in Mast Brothers cacao refuse. We made our own cocktails to pair with each course and my favorite was this crazy savory margarita with tequila, kale, radish, and bell pepper. The family-style dinner was super-farmy — a sugar-snap-pea panzanella, Hamachi carpaccio with nasturtium and fresno chiles, grilled head-on prawns in salsa verde, and whole dorade with garlic scapes and lemon verbena.
Wednesday, June 12


Water, coffee, Morning Joe, and then I headed in. We get breakfast catered a few times a week, and Wednesday's was smashing — a biscuit bar from Peels. I skipped the cinnamon-sugar doughnuts and coffee cake for a bowl of gorgeous fruit — peaches, gigantic sweet cherries, blueberries, strawberries, and mint, and half of an avocado sandwich that I gussied up with some Sriracha.
Later that afternoon at a creative agency uptown, I had a whole lot of marshmallow rainbows to celebrate the Lucky Charms launch of their gay pride Tumblr.
Back at the office, I powered through e-mails over two cups of coffee until I had to head out to meet a few friends at Booker and Dax for drinks. I'm not much of a brown spirits drinker, but I had their spin on an old fashioned with a twelve-year Japanese whisky, and a little lettuce wrap stuffed with bo ssäm.
A friend who is a restaurant critic invited me to check out Lafayette in research of a review. We split a whole slew of everything he wanted to try. "Eggs Lafayette" (deviled eggs piled high with smoked fish and roe), Oysters "Sargeant"(warm baked oysters), crunchy soft shell crabs bright with basil, squid-ink pasta, and rotisserie chicken for two.
And after that, I headed home to pack for Aspen …