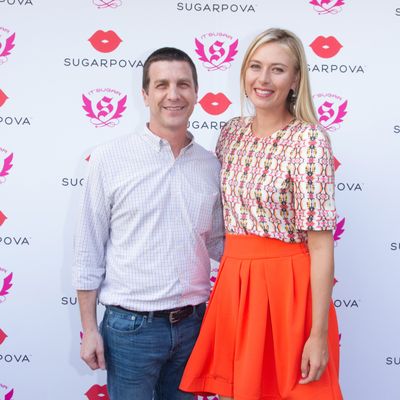 Rubin, left, convinced Maria Sharapova to put her name on a line of gummies and tennis gum balls.
Photo: John Parra/Getty Images
The July issue of Fortune includes a crazy profile of the 49-year-old Jeff Rubin, founder and CEO of nouveau candy-store chain It'Sugar. Rubin was a co-founder of Dylan's Candy Bar and created the candy program at FAO Schwartz before he came to his current role, in which he hobnobs with celebrities and presides over an empire of Sour Patch Kids. The core mission of It'Sugar, predictably, is to make everything as outlandish (and hot pink) as possible. "Everyone else builds candy stores on taste," he says. "I'm building on attitude." The article is lamentably behind a paywall, but some of the best bits are straight ahead.
1. The brand, which markets itself to young women and is essentially trying to be the Victoria's Secret of candy stores, is about to open everywhere: It'Sugar is the "fastest-growing retail candy store in the world," apparently, with 45 stand-alone locations worldwide and 30 smaller outlets within department stores like Selfridges and Macy's. Plans for scores more are in the works; its fifth location opens in the South Street Seaport next month.
2. Rubin's business card reads "CHIEF GUMMY BEAR."
3. The chain's "Sugarpova" line is a collaboration with tennis champ Maria Sharapova that not only entails pastel gum balls shaped like tennis balls, but also gummies shaped like high-heeled shoes and handbags. Also, for some unglamorous reason, worms.
4. Stores sell classy Marilyn Monroe gear, including a themed "Marilyn Monroe Rules Sugar" chocolate bar, for $3.99. This came about because the chain "recently bought the exclusive candy rights" to the movie star's likeness, because candy rights are a real thing.
5. Joe Jonas Jawbreakers may be next: "It'Sugar has an informal partnership with Creative Artists Agency (CAA) to develop more candy brands built around stars," we are told. Oh, the possibilities.
6. Rubin says he's not pretending to be something he's not. Or maybe he is. Saying things like, "Everyone else builds candy stores on taste. I'm building on attitude," is kind of confusing.
7. It'Sugar on the Upper West Side had a "Laffy Taffy leather jacket bedecked in Swarovski crystals." It costs $2,499. We rang up the shop; someone apparently bought it.
8. People like candy: The chain's latest New York store opened in Coney Island on May 3 just one block away from the 73-year-old mom and pop Williams Candy. It "rang up $25,000 in sales its first weekend." That's pre-beach-season, mind you, in a community still recovering from Hurricane Sandy.
9. The secret of candy is all about balance: "This is just the right amount of camel and right amount of ball," Rubin says, admiring the testicle-themed design of It'Sugar's Camel Balls.
10. The 27-pound gummy worm goes for $150. But at least it probably feeds a family of twelve.

A candy chain's sweet success [Fortune]