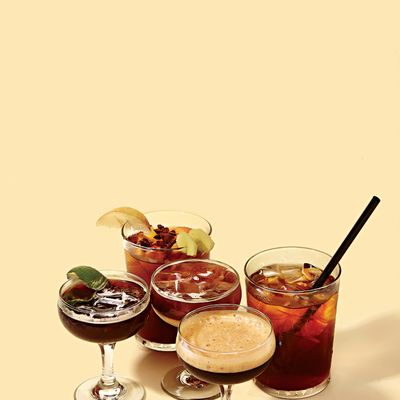 Iced espresso with mint and lime (far left); iced coffee with ginger, apple, and star anise (top); On the Rocks (center); caffè freddo (right); Shakerato (bottom).
Photo: Bobby Doherty/New York Magazine
Now that iced-coffee season has commenced, the bean cognoscenti have sought relief in all the usual places—especially the spiffy new outposts of cult roasters like Stumptown, Intelligentsia, and Blue Bottle. But one of the best new sources for an invigorating jolt has been hiding in plain sight, a short flight of stairs above a Japanese yakitori joint on St. Marks Place. The earnestly named I Am Coffee is, quite literally, a bar, barely long enough to accommodate three slender customers, manned by partners Giovanni Finotto and Caterina Musajo Somma, a young couple from Bergamo who traveled throughout Italy studying the history and craft of coffee before opening the cubbyhole café last December. Their mission: to honor the product's proud Italian heritage by emulating the artisans responsible for growing, sourcing, roasting, and brewing it. It is in these last two arenas, Finotto believes, that Italians have the advantage over America's much younger coffee culture, and his espresso is ample proof, shorter and less bitter than much of the local competition. It and the drip, both made from beans roasted by Bologna's Manuel Terzi, are shown to great effect in the seasonal roster of iced drinks: the Shakerato, an Italian classic vigorously frothed in a cocktail shaker and served in a coupé glass; the On the Rocks, a double shot poured over ice and touched with cream and a dash of evaporated-cane-sugar syrup; and the caffè freddo, Finotto's Ethiopian-single-origin cold-brew-pour-over hybrid. And then, because to keep a tradition alive one must constantly reinvent it, there are the monthly recipes Finotto and Musajo Somma concoct like a pair of seasoned mixologists. For one, they bury lime zest and mint leaves beneath a few ice cubes, using a double shot's heat to extract the oils; for another, chilled pour-over brew is flavored with star anise, ginger, and apple, yielding an iced coffee that drinks uncannily like an iced tea. And in the best bartending tradition, Finotto and Musajo Somma engage with their customers, turning an ordinary transaction into a routine-breaking social encounter, which is just as refreshing as their drinks.
9 St. Marks Pl., nr. Third Ave.; 917-826-1174
*This article originally appeared in the June 17, 2013 issue of New York Magazine.