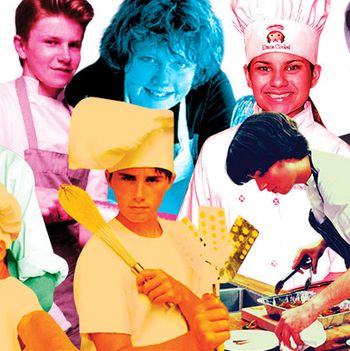 This fall, Fox will debut Junior MasterChef, which pits 8-to-13-year-olds against one another in a series of escalating cook-offs. But some teenagers are already holding pop-up dinners, hounding Michelin-starred chefs on Twitter, and hurrying to finish their homework so they can go back to figuring out the best way to pair fermented raspberries and pork shanks.
Eliana Marisol de Las Casas
Age: 13
Location: Harvey, Louisiana
This eighth-grader with Cuban, Filipino, Cajun, and Honduran roots has been cooking since she was 4 and always finishes her homework before taping her weekly web radio show about food, "Cool Kids Cook." She is developing proprietary spice blends and launching her third cookbook as well as "developing a line of chefwear for kids," according to her mother.
Aaron Kirschner
Age: 16
Location: Boulder, Colorado
The self-described perfectionist has held hometown Iron Chef-style challenges with fellow teen chef Austin Forest and staged at Eleven Madison Park and Le Bernardin. He used to work after-school shifts at a local bistro, but now that school's out, he's hosting pop-up dinners. He plans to cook his way around the world instead of attending college. This summer, he'll be at Homaro Cantu's Moto for the second time.
Flynn McGarry
Age: 14
Location: Los Angeles
After launching his own supper club at 11, he went on to stage at Alinea and Eleven Madison Park. He's even been profiled in The New Yorker. In April, McGarry was invited to the White House Easter Egg Roll, where the soft-spoken teen explained a dish of farro, pistachios, roasted carrots, watercress, blood orange, and pickled onions to a crowd that was probably expecting egg-dyeing tips. His twelve-course $160-per-person Eureka dinners at a tony Austrian restaurant in Beverly Hills continue to sell out, and plans are under way for a New York pop-up in August.
Greg Grossman
Age: 18
Location: New York City
Grossman started cooking at age 8 and later hosted a series of hyped pop-up dinners before graduating to his new gig as a budding food entrepreneur. This fall, he'll be studying business management at NYU. Off campus, he'll be working for a Michelin-starred chef when he's not serving trays of raw oysters topped with faux caviar made from spherified juice for his catering business, Oysters & Pearls—or developing menus for a start-up that delivers paleo-diet meals to customers at CrossFit gyms.
Romilly Newman
Age: 15
Location: New York City
The Greenwich Village resident was the youngest-ever contestant on the Food Network's Chopped. She has a blog and also pens a regular food column for Zooey Deschanel's site HelloGiggles, where she explores everything from the virtues of Maldon salt to her love of Mumford & Sons. Lately, she's been training at an organic-cooking school in Ireland. A full-fledged "food and lifestyle website" is in the works.
Jack Lark
Age: 15
Location: Hobart, Tasmania
A casual viewing of Julie & Julia inspired Lark to pick up a spatula. The runner-up on Junior MasterChef Australia later accepted acclaimed chef Heston Blumenthal's offer to visit England and eventually cooked in Hong Kong, though Lark recently said he's thinking of ditching food altogether for a career in forensic science.
Leo & Benno Batali
Ages: 14 and 16, respectively
Location: New York City
Signature dishes from The Batali Brothers Cookbook include "pocket" hamburgers, which are stuffed with blue cheese or whatever they "find at the farmers' market." They recently were on Good Morning America doing a demo with their famous dad.
*This article originally appeared in the July 8, 2013 issue of New York Magazine.