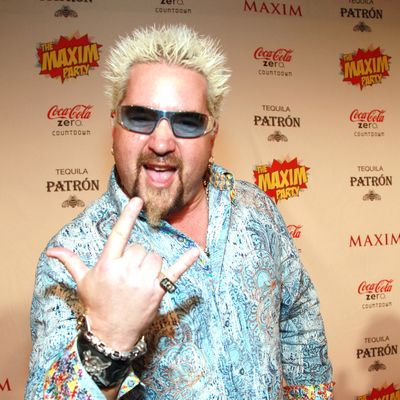 He's in R&D mode, after all.
Photo: John W. Ferguson/Getty Images
The unstoppable chef and restaurateur Mario Batali accompanied his sons Leo and Benno to Bushwick's holy hipster apex Roberta's yesterday so they could appear on Heritage Radio and discuss their new cookbook. Then, for some reason, Guy Fieri swooped in and joined them all for lunch.
Reportedly, Bushwick broke — at least a little. There's documentation of the summit on Twitter, and not suprisingly, some of it is incredulous:
Highlight of the day: sitting next to @mariobatali & @guyfieri at #Roberta's in #Bushwick. That's for sure how you know a place is good.— Krista B (@Krista_B) June 10, 2013

But there's really nothing out of the ordinary about the impromptu pizza party between the two culinary titans at a place where the Clintons have brought their motorcade. And, after all, Batali and Fieri have cooked together, danced together, laughed together, and they're both opening Las Vegas restaurants. Maybe Fieri really is opening a Brooklyn restaurant. Or maybe — maybe — he's really going to cut out the neon nacho cheese and fried salads and turn a culinary corner with his next restaurant.
Earlier: Guy Fieri Has a Big Las Vegas Restaurant in the Works
Earlier: Mario Batali: Vegas, Baby
Related: Watch Williamsburg React to News of Guy Fieri's New Brooklyn Restaurant