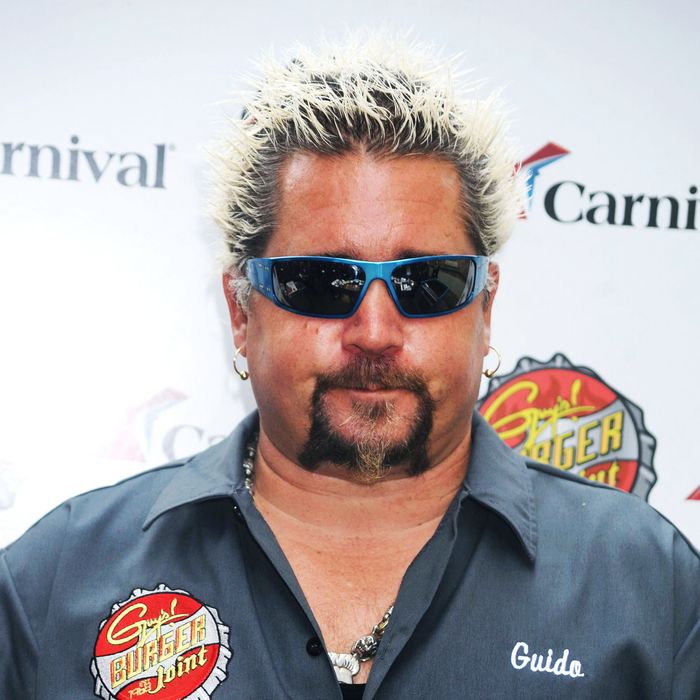 Imagine there's no Donkey Sauce. It's easy if you try.
Photo: Splash News
Food Network star Guy Fieri is planning a brand-new, as-yet-unnamed Las Vegas restaurant that will be open late, serve "an eclectic mix of food," and will have "a really good bloody mary [sic] brunch program in the late morning," he tells the Review-Journal. So, is it Guy's American Kitchen all over again? The divisive celebrity chef does not discuss the menu or the concept at the restaurant, which is a partnership with Caesars Entertainment Corp. at the Quad, but instead describes the space as big with "huge glass windows overlooking the Strip" and lots of wood and raw metal finishes. As of now, there's no mention of tequila and turkey fettuccine, "bleu-sabi" anything, or "taco grease." Instead, Fieri says that he's "stoked," then takes the opportunity to speak out against our broken food system. "Now we have childhood obesity and all these processed foods," he says. "Where have we gone wrong?"
Has Fieri, who graduated from UNLV in 1990 and even got an honorary degree there last year, been planning a restaurant that does not run on gimmicks, puns, and fryer oil? Have we seen the last of the Frangelico and mustard-glazed chicken wings?
No, probably not at all. The television chef is most likely drawing words like slammin' and killer out of his adjective hat at this very moment and spinning the pesto fusion wheel. At the same time, the new endeavor seemingly won't be a branch of Fieri's Johnny Garlic's "pasta grill," the fusion nightmare Tex Wasabi's, or the critically maligned Guy's American Kitchen. It would be great, not to mention a completely unexpected move, for Fieri to open a more earnest restaurant that really serves basic, straightforward food. There are few people on food television who wield the same kind of influence Guy Fieri does, no matter how ridiculous he may regularly appear or how readily dismissible a culinary force he may seem.
"I think it's going to get everybody," he says of the new restaurant's location, conveniently located across from the "world's largest" Ferris wheel. Such a broad audience would probably be really "stoked" to find real food out there.

Guy Fieri fired up about new restaurant on Strip [LVRJ via Eater]
Earlier: Guy Fieri Is Now Dr. Guy Fieri