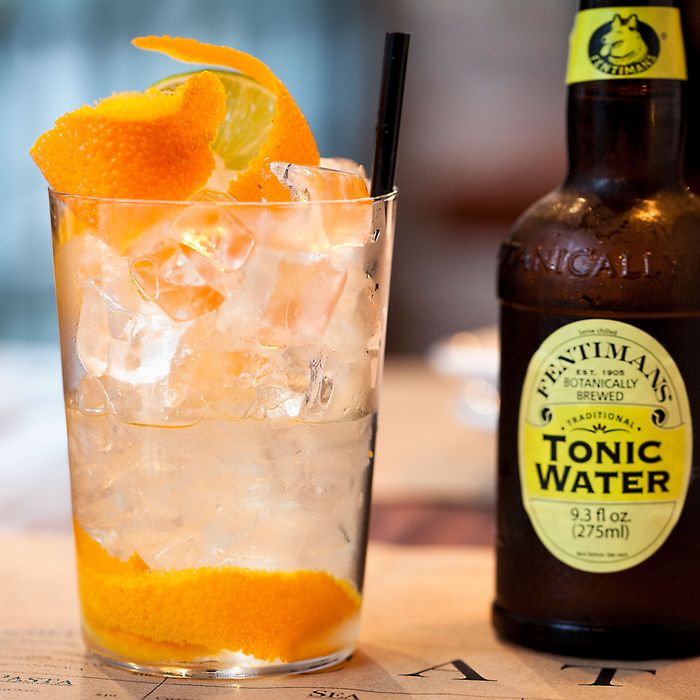 Endangered cocktail?
Photo: Dominic Perri
The vast amount of juniper used by distillers to make gin is actually from Italy and Eastern Europe, but Britain has its share of the bluish-green berry-producing conifer trees, which are now under siege by a "fungus-like" pathogen called Phytophthora austrocedrae, the Telegraph reports. "Some 45 per cent of Scottish trees are at risk of being wiped out by the fungus," according to an estimate. So does this mean the future of the most refreshing cocktail everywhere is on the line?
Perhaps. In the same way coffee rust in isolated growing regions presents a threat to beans worldwide, advocates say the juniper situation calls for extensive monitoring and intervention. P. austrocedrae is a relatively new player on the scene, the U.K. Forestry Commission notes; it's only recently been identified, and it's likely been in Argentina and Chile for a while. The Telegraph reports that multiple agencies and advocacy groups in Britain are scrambling to investigate the fungus not only because of its immediate threat to juniper throughout Scotland and the Lake District, but because the pathogen may spread to commercial crops elsewhere. In other words, it's a good time for drinks, but also to make contingency plans.
Juniper tree disease threatens G&T; [Telegraph UK]
Earlier: Spring Drinking: 13 Spots Where You Can Order a Great Gin and Tonic