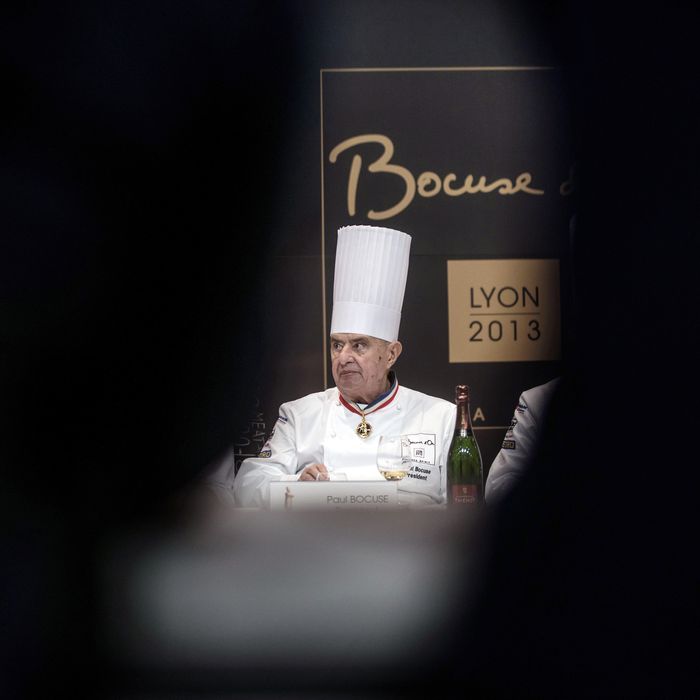 Make it from scratch, Bocuse says.
Photo: JEFF PACHOUD/AFP/Getty
A proposal to make it illegal for French restaurants that serve so-called industrial food to actually bill themselves as "restaurants" may not have played so well with the National Assembly, but that doesn't mean the bataille de la bouffe is dunzo. Parliamentarian Daniel Fasquelle is so incensed by the vast ranks of factory-made tarte tatins and molten chocolate cakes out there at midrange bistros that he's taking it to the streets, Bloomberg reports.
All of those plastic-wrapped frozen lentils and sausage and single-serve portions of "Provencal-style pork stew" made by huge corporations aren't inherently evil, Fasquelle argues, but the sudden and widespread deployment of microwavable brasserie standards is a major threat to cooking from scratch. If old cooking techniques die out, say chefs like Paul Bocuse and Alain Ducasse, so will the centuries-old linchpin of French culture and the key to future generations of tourists. A trade group recently announced the results of a poll that indicated some 31 percent of the country's establishments use industrial food. But, of course, when it comes to cassoulet, everyone (apparently) lies: "If a third admit to it, then the real number must be about half," a Paris restaurateur says.
Dirty Secret of French Restaurants Out as Food Origin Sought [Bloomberg]
Earlier: Today France Debated Which Restaurants Can Call Themselves Themselves 'Restaurants'
Related: Ducasse-Led Chef Group Creates New 'Quality Restaurant' Seal of Approval