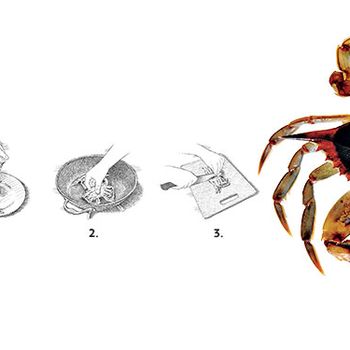 Photo: Bobby Doherty; Illustrations by John Burgoyne
One of the seasonal glories of the Mid-Atlantic seaboard, soft-shell crabs, or "soft crabs," as they call them down along the Chesapeake Bay, are available from spring through summer but are at their peak in June and July. The name refers not to a species of crustacean but to the molting stage of the blue crab, which sheds its shell in order to trade up to a new one. The best way to cook a soft-shell is with as little fuss as possible. If you don't believe that, just ask the finest seafood chef in the country, Le Bernardin's Eric Ripert, whose minimalist recipe follows.

Eric Ripert's Sautéed Soft-Shell Crabs With Herb Vinaigrette

2 tsp. Dijon mustard
1 tsp. fine sea salt
2 pinches freshly ground white pepper
3 tbs. sherry vinegar
1 cup plus 1 tbs. extra-virgin olive oil
1/4 cup superfine flour, such as Wondra
4 soft-shell crabs
2 tsp. vegetable oil
1 tsp. each finely chopped tarragon, parsley, chives, and chervil
In a mixing bowl, whisk together the mustard, salt, pepper, and vinegar. Whisking constantly, slowly drizzle in the olive oil. Reserve. Just before cooking, clean the crabs by cutting off the gills and the apron (the flap under the rear of the crab) as well as the face from just behind the eyes (or have your fishmonger do it). (1) Put a little of the flour in a tea strainer and sift over the crabs to lightly coat both sides. Add the vegetable oil to a large skillet, and place over high heat. (2) When the oil begins to smoke, add the crabs to the pan, topside down. (Don't overcrowd. If need be, use 2 pans, dividing the amount of oil, or cook in batches.) Sauté crabs until brown and crisp, about 1 1/2 minutes per side. Stir the herbs into 3/4 cup of the vinaigrette (save the remainder for another use). Spoon about 2 tablespoons onto the center of 4 dinner plates. (3) Split each crab in half, and place over the vinaigrette.
*This article originally appeared in the June 17, 2013 issue of New York Magazine.