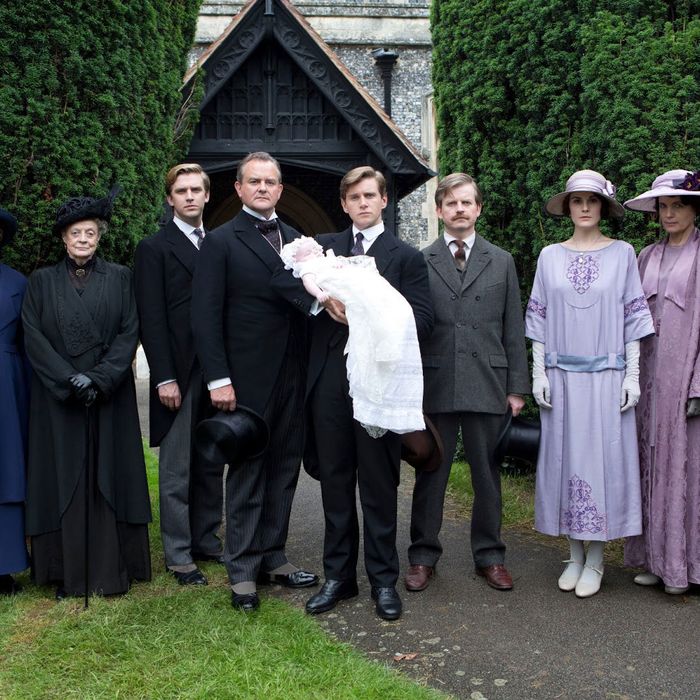 All right. Let's get this party started!
Photo: Giles Keyte/Carnival Films
The folks who distilled the mystical essences of Pink Floyd and Grateful Dead into 750-milliliter bottles of wine have officially licensed the Downton Abbey name for a forthcoming line of Bordeaux clarets and Bordeaux blancs, the Atlantic Wire notes. The official press release breathlessly notes that the French vineyard Dulong Grands Vins De Bordeaux is using "grapes grown on the same vines and from the same soil as those from wines in the era depicted in Downton Abbey," which is not only confusing but maybe somewhat historically inaccurate. So first, scandal! Second: Let's pour one out for Lady Sybil.
It turns out that a pernicious grape vine blight devastated production of French wines at the turn of the century, and as a result, it was primarily less expensive products that were likely served at soirées for the next few decades. Also, "Downton dinner parties would have featured Champagne, or German white wines instead," the Atlantic suggests, "as all were much more fashionable at the time."
Ah, well. We look forward to the wide variety of Crawley/Grantham drinking games that will surely be sweeping the nation like Spanish influenza by January 5. And considering the announcement this week that Paul Giamatti has been cast in the show's next season, at least it's not merlot. Dude really hates merlot.
Downton Abbey Is Launching a Line of Wines [Atlantic Wire]
Official Downton Abbey wine to launch [Licensing.biz]
Related: Paul Giamatti Joins Downton Abbey