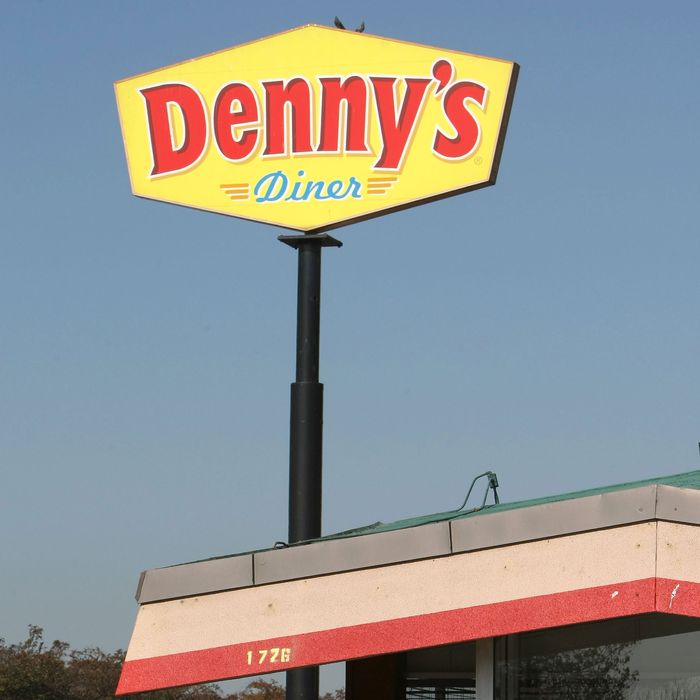 It won't even look like this, swears Denny's.
Photo: Justin Sullivan/Getty Images
A coalition of financial district condominium owners has filed a suit for up to $10 million in New York State Supreme Court in a last-ditch effort to block Denny's from opening in the ground floor of their landmarked building. Neighbors and residents of 150 Nassau Street, where condos can sell for more than $1.45 million, have been dead set against the chain restaurant since it was announced because they fear it will attract the "wrong crowd" to an otherwise peaceful block. "Denny's is a fast food chain synonymous with a late night party atmosphere, as well as drunk, disorderly, violent and criminal conduct," the complaint reads, in part, according to the the Real Deal.
In a conciliatory gesture, Denny's last month withdrew its full liquor-license application after it received more than 50 complaint letters, but CB1 residents say the withdrawal is only temporary and amounts to nothing more than subterfuge.
Yet, the purveyor of cheap breakfast is resolute. "We're going to have a Denny's in the building one day," says the owner of the real-estate group funding the restaurant, which is no doubt trying to think of a new way to cook up some kind of NIMBY Grand Slam.

150 Nassau board (grand) slams Denny's in $10M lawsuit [The Real Deal]
Earlier: Denny's Is Invading Lower Manhattan