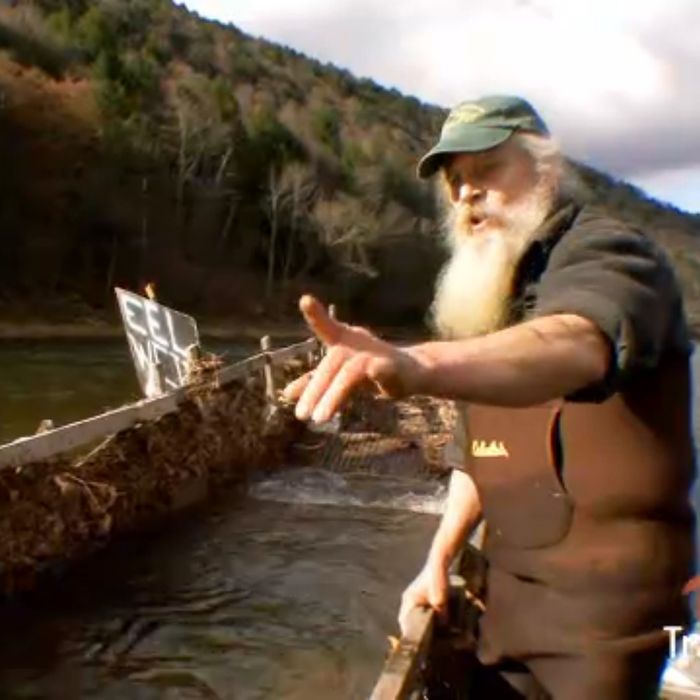 The traditional way of purchasing Ray Turner's famous smoked eels involves a road trip into the Catskills and a knock on the door of a business called Delaware Delicacies Smoke House, which is at the very end of a long dirt road in a town called Hancock. (Signs nailed to trees that say "EEL" with an arrow may help with navigation.) Luckily, Turner, who builds a weir from scratch each year and has been celebrated in books, the New York Times, and is also a favorite of Anthony Bourdain's, sells a certain amount of his smoked seafood to Main Street Farm of Livingston Manor, which will be represented among the vendors at this year's first New Amsterdam Market, which takes place from 11 a.m. to 5 p.m. this Sunday. Straight ahead, check out Turner's work on a clip from an old No Reservations episode.
If you're not in the eel line at noon, an hour after the opening bell, founder Robert LaValva will speak about the market's current plans for the old Fulton Fish Market buildings. Check out the full list of Sunday's vendors, grain and dairy pavilions among them, right here.
Events and Vendors [New Amsterdam Market]
Earlier: Can New Amsterdam Market Revitalize the Post-Sandy Seaport?