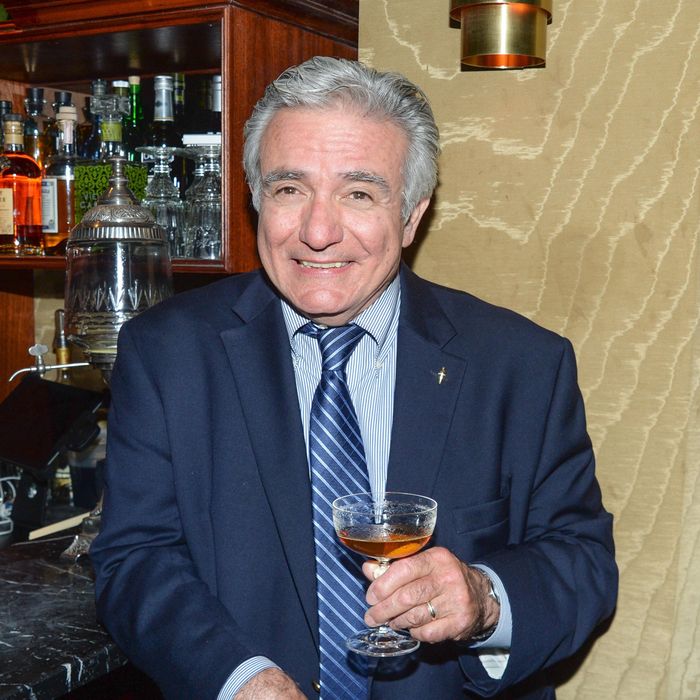 DeGroff last night, drinking what is probably not a Long Island iced tea.
Photo: Joe Schildhorn/BFAnyc.com
Last night, Village East Cinema hosted the premiere of Hey Bartender, a film that covers the ins and outs of the bartending business (here's a clip). As you might expect, the occasion brought out big-name drink-makers like PDT's Jim Meehan, Milk & Honey's Sasha Petraske, and bartending legend Dale DeGroff. In the spirit of the Awl's recent (and excellent) examination of the Long Island iced tea, Grub Street took the occasion to ask attendees if there were any so-called trashy drinks they wanted to see make a comeback. Petraske more or less wrote off the whole idea — until DeGroff convinced him otherwise.
Are there any trashy cocktails you'd like to see make a comeback?
Sasha Petraske: I wouldn't bring back any. They were terrible, from what I remember. Those things, without exception, were undrinkable.
You are talking to the first guy to refuse to make a cosmopolitan. And it was in the year 2000, when it was the hot drink. I stopped carrying cranberry juice so I would never have to make that shit.
So if someone walked into your bar and ordered a Long Island iced tea, what would you say to them?
SP: We would politely steer them to probably a City Fizz. It's an incredibly strong drink — a whole lot of alcohol that you can easily get in your system. There was a reason this whole cocktail renaissance happened: The drinks were just so bad that the state of bartending in the eighties and nineties didn't exist. We should ask Dale.
[To Dale DeGroff]
If you could bring back one eighties drink, what would it be?
Dale DeGroff [who had not overheard our conversation about Long Island iced teas]: The Long Island iced tea, I guess. I like the Long Island iced tea. I make a really good one. I know everyone poo-poos the Long Island iced tea, but I think they are awesome.
SP: You'll have to make me a good one sometime. I've never had one.
DD: I use fresh lemon juice. I only use a half ounce of each of the spirits, so the total alcohol content is two and a half ounces, then I put it in a large iced-tea glass. Fresh lemon juice and Coca-Cola are the sweet and the sour, so made that way it's actually a really good drink. A bartender's mistake is using an ounce of each of the spirits, and it just kicks your ass. And it's dumb — just dumb.
There was a journalist going around New York ordering Long Island iced teas at high-end bars.
DD: I sold thousands of them at the Rainbow Room, because I made a good one. Nobody had ever had it with fresh lemon juice. They made it with this ugly sour mix that tasted like shit.
So if someone ordered a Long Island iced tea from you, you'd make it?
DD: Hell, yeah. I literally made hundreds of them every week at the Rainbow Room.
But where could we have you make one for us now?

DD: Just call me up. We'll figure out a place. I can go to any bar in town — they're all friends.
Related: Watch an Exclusive Clip From Hey Bartender, Which Delves Into the Minds of Cocktail-Makers