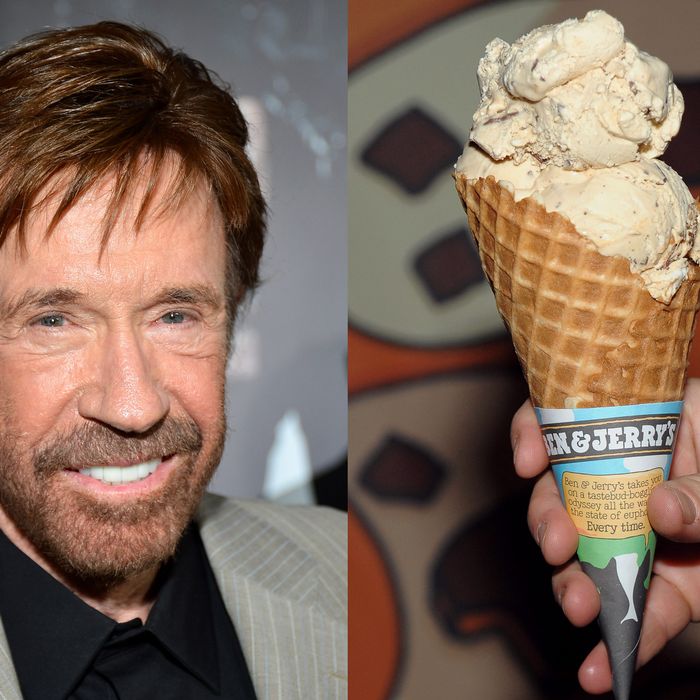 Come together.
Photo: Frazer Harrison/Getty Images; Jamie McCarthy/Getty Images
If anyone's going to defeat big, bad biotech company Monsanto, it's the man who can cut through a hot knife with butter: Chuck Norris. He's written an op-ed against genetically modified foods, arguing that they may even increase the risk of developing Parkinson's disease. Though he mostly quotes other writers and researchers, it's a bold piece considering Norris is a staunch conservative: Republicans are divided on whether GMOs are safe or unsafe. And on the other side of the political aisle, liberal company Ben & Jerry's has come out against GMOs, too.
Currently, 80 percent of Ben & Jerry's ingredients are sourced non-GMO, and the company announced that it's committed to reaching 100 percent. By the end of 2014, it'll have removed all GMOs from its ice creams, which will involve tweaking 80 flavors, 110 ingredients, and more than 200 different products. Ben & Jerry's will also support the push for legislation that requires GMO labeling, and as the company transitions, it'll clearly label all of its items that still have GMO ingredients.
Chuck Norris and Chunky Monkey would make for a beautiful, bipartisan partnership. It's time for these two GMO adversaries to join forces.
CHUCK NORRIS BATTLES GENETICALLY MODIFIED FOODS [WND Diversions] via Chuck Norris Uses Words, Not Fists, To Fight GMOs [The Braiser]
Latest GMO Transition Updates [Ben & Jerry's] via Ben & Jerry's Will Stop Using Genetically-Modified Ingredients, Company Says [HuffPo]
Earlier: Legislators Push to Make New York First State to Require GMO Labeling