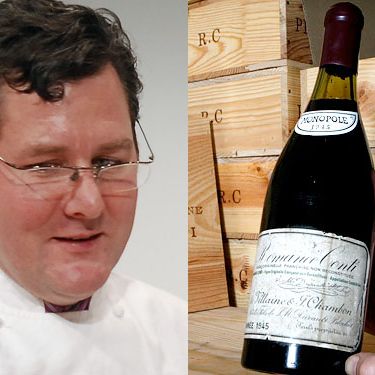 The chef allegedly personally vouched for the bottle's provenance.
Photo: Rob Loud/Getty Images; Denis Balibouse/Reuters
Two New York-based wine collectors filed a lawsuit against legendary Chicago chef Charlie Trotter in Illinois Northern District Court for allegedly selling them a 1945 Domaine de la Romanée-Conti for $46,000 because it turned out to be a fake, the Sun-Times reports. Bronx residents Bekim and Ilir Frrokaj claim they paid $46,227.40 for the 1945 Domaine de la Romanee-Conti magnum last year, allegedly after the famed chef and a wine expert personally delivered a compelling sales pitch in the dining room of his now-closed restaurant. Bekim Frrokaj forked over $40,000 in cash, put the rest on a credit card, and the bottle was shipped to New York. The only problem? It turns out DRC didn't make any magnums with a 1945 vintage.
Three months after they received the bottle, Frrokaj was told by his insurance carrier that the wine would require verification in order to be covered under his policy. A third-party analyst determined that the bottle was fake and Domaine de la Romanee-Conti co-owner Aubert de Villain agreed, noting the winemaker had experienced relatively low yields in 1945, and "as a result did not produce any large-format magnum-size bottles in that vintage," the lawsuit contends. The pair are seeking their money back and $75,000 in damages, which could buy them a few nice replacement bottles if they are successful in court. A copy of the lawsuit is here.
Similar bottles have gone for as much as $125,000 at auction. Predictably, the vintage has been a grail of sorts for counterfeiters, who've even at times devised elaborate blending schematics that involve vintage labels, old corks, and glass bottles. Crafty wine counterfeiters can turn a few hundred dollars' worth of wine and some old stuff they found on eBay into a business worth many millions. the downside is that they tend to eventually get caught.
Charlie Trotter's closed last August after a protracted series of commemorative events and blowout dinners. The contents of the restaurant's wine cellar exceeded estimates last year at auction, and it's likely that more than a few oenophiles — Trotter auction participants and otherwise — will be going through their cellars this morning, checking the glue on their labels and the wax on their corks.
Update: When reached for comment, the chef told the Chicago Tribune that the lawsuit is not what it seems. "It was a disgruntled client who probably paid a lot more money (for the bottle) than he's ever paid before," he said. "It's buyer's remorse."
Wine collectors sue chef Charlie Trotter, say $46K bottle is fake [Chicago Sun-Times]
Charlie Trotter's sued for selling fake DRC [Wine Beserkers]
Earlier:>Charlie Trotter's Can Be Yours for the Low, Low Price of $3.8 Million
Earlier: Trotter Auction Nears $1 Million Mark; Online Will Exceed Estimate