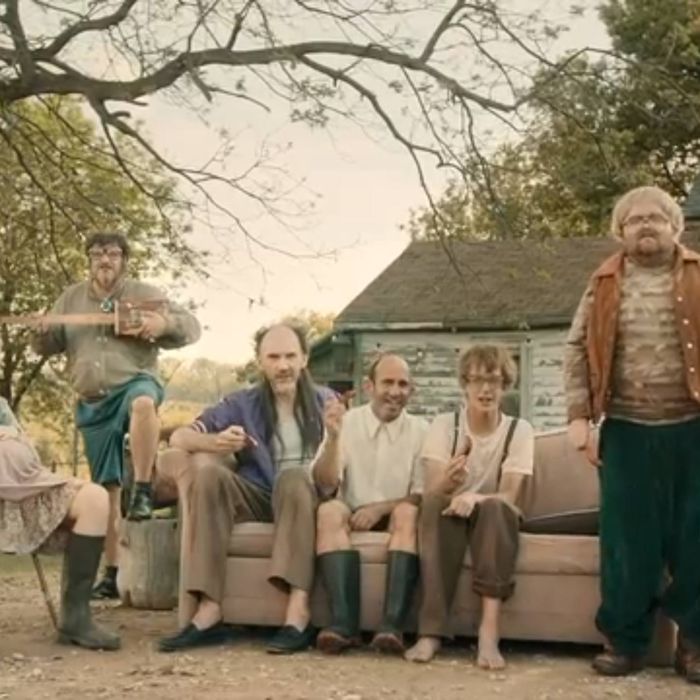 What better way for a restaurant chain to promote a new menu than by lampooning Southerners?
Photo: Courtesy of Boston Pizza
Speaking of offensive things, the British Columbia–based Boston Pizza chain has taken to promoting its new ribs with a TV ad campaign featuring the "Ribnecks," a group of delightful rednecks who live "down South" amid squalor and egregious stereotypes. The stock characters are all here: the fat, androgynous redneck sitting on the sofa that's inexplicably been set up outdoors; the stoic dude playing a gas-can banjo; a freak in suspenders; the lady who wears her bra on the outside of her dress and passes the time by banging logs together; the patriarch with male-pattern baldness and a mullet; and, of course, a bunch of free-roaming chickens. Check it out, straight ahead. Maybe you'll laugh.
Several comments criticizing the ad have been removed from Facebook, including one that stated, in part, "I have several cousins in the southern US and I assure you, they are NOT rednecks! I hope this poor excuse for advertising has been pulled already." One comment is as follows: "Disgusting, gross, tasteless. Marketing should be fired for approving that!!" Another more or less reads: "Bring back Sticky Toffee pudding dessert!!"
The chain, which bills the Ribneck family as "ultimate rib experts" instead of labeling them degenerates, has 350 locations across Canada. Part of its new marketing push, it should be noted, also involves a fake infomercial for the "Rib Stain Camo," a shirt that allows rib-eaters everywhere to be as slovenly as they please:
Boston Pizza's marketing VP says the dual campaigns "simultaneously entertain our guests while also making them aware of our new, improved ribs."
Earlier this afternoon, the chain released a statement on Facebook addressing the criticism:
In the spirit of social media and open dialogue with our guests, we want to let you know that we appreciate all of the feedback regarding our recent campaign. While it is clear that some people don't care for the TV commercial, we are also seeing many guests across the country responding favourably to the spot. We are always open to feedback from our guests and assure you that we are sharing your comments internally and will continue to do so. Thank you and cheers to a good weekend.
Hey @bostonpizza: i find your #ribnecks commercial offensive. But congratulations on being technically not racist— Michal Grajewski (@michalgrajewski) June 18, 2013

And, this, for some reason:
Though @bostonpizza should be commended for not making fun of poor, down-trodden Canadians in their #ribnecks ad. It's ok because it's USA— Michal Grajewski (@michalgrajewski) June 18, 2013

Boston Pizza Meets the Ribnecks [YouTube]
Rib Stain Camo [Official Site]
Post [Boston Pizza/Facebook]