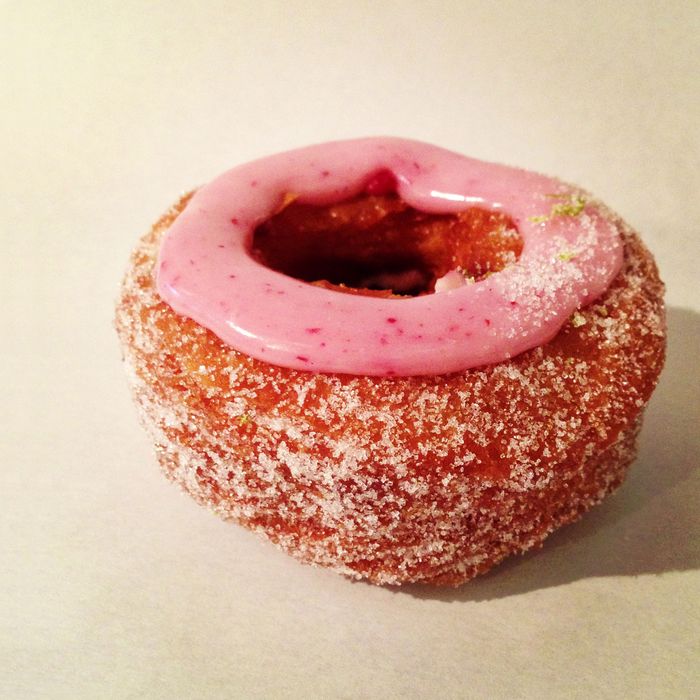 Not pictured: a healthy swirl of blackberry cream filling.
Photo: Dominque Ansel Bakery/Grub Street
Next up in the sequence that began with rose-and-vanilla cronuts and continued with a lemon-maple variety is blackberry, Dominique Ansel Bakery's official cronut flavor for July. The lines that form in the early morning hours outside 189 Spring Street are longer than ever, and the blitz of cronut impostors continues apace, but no matter. This is what you need to know: The new cronut has a blackberry glaze with bits of pulverized berries mixed in, and it's rolled with a mix of coarse sugar and lime zest. It will be filled with blackberry-swirled vanilla cream. It goes on sale next Monday.
While most coverage of the cronut-mania has focused on the lines and the hype, here's something sweet: A representative for the bakery tells us there have been "a few" people proposing marriage via the old diamond-ring-inside-cronut trick.
Later on this week, the constantly mobbed bakery will begin a "cronut lottery," where entrants who drop their information into the bakery's fish bowl will become eligible for a weekly chance to skip the line. And coming next month, the baker is mulling over a plan that would allow the public to choose the flavor of the month by voting on Facebook.
Earlier: Introducing the Cronut, a Doughnut-Croissant Hybrid That May Very Well Change Your Life
Earlier: New Cronut Alert: Lemon-Maple Flavor Goes on Sale This Saturday