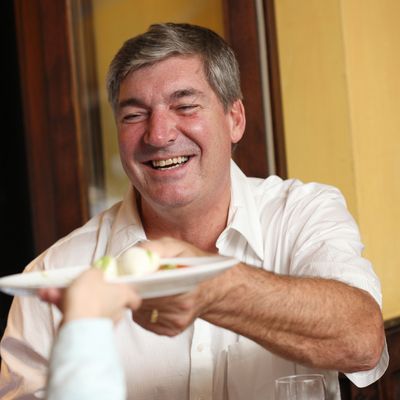 Dinner with friends at Da Andrea.
Photo: Melissa Hom
Former Detroit Pistons center Bill Laimbeer (member of the famed Bad Boys squad) is largely considered one of the dirtiest athletes in the history of professional basketball: He threw elbows, feigned fouls, talked trash, and pissed off basically everyone outside of Michigan. Now, though, he's in his first season as head coach and general manager of the WNBA's New York Liberty. The team's chef provides much of six-foot-eleven Laimbeer's food — beef-barley soup, a chicken wrap, and eggplant lasagna in one lunch sitting — but he still found time during the regular season's second week to grab post-game chicken wings, have a double-date dinner with Isiah Thomas and their wives, and grill up some burgers made with venison that Laimbeer hunted himself. Read it all in this week's Grub Street Diet.
Friday, May 31
The night before, I went to Philippe with a group of six family members and friends. It was my first time there, and it was fantastic. I split the duck, and I had some chicken satay, dumplings, and lettuce wraps.
Friday was a game day. I started off at home in White Plains with my wife, and I had three cups of coffee and a banana. Then I drove to Newark for our practice, and I had lunch at the Hilton hotel. I had clam chowder and a chef's salad with blue cheese.
After the game, I went to a place called Foley's on 33rd. It's a sports bar. At twelve o'clock at night, it's the only place we know of that serves food. I was with my wife, my sister, a couple of friends, and my kids, who are in their late twenties. I had sesame-ginger chicken wings, a Caesar salad with shrimp, and a couple of Newcastles. That's my beer of choice.
On game days, I'll usually have only one meal: a very heavy breakfast. If the game's at 7 p.m., I'll get up and eat — at the least — a big omelette, bacon, hash browns, three or four cups of coffee, rye toast, a bagel with cream cheese, and grits. And then I'll shoot around, take a nap, go to the game, and eat late-night.
When I was playing for the Pistons, I'd get up, have some coffee, eat a small bowl of cereal, go shoot around, and stop at Little Caesar's. Back then, they used to make these little tuna-pocket sandwiches. I'd get two, and then eat my tuna sandwiches in bed. I'd watch TV and fall asleep for three hours, and then get up, go play the game, and eat again. That was my routine. It's similar to my routine as a coach.
Saturday, June 1
I drank three cups of coffee and I had leftover beef tenderloin from two nights earlier, which my wife had ordered at a restaurant. I finished it off in the morning, and then for lunch, I was still at home, and I had a turkey-and-swiss sandwich.
I had the day off, so I headed over to my sister's apartment and we had a family barbecue. I had venison burgers, pasta salad, deviled eggs, and asparagus.
We're hunters, so we ate venison that my wife and I shot. She's been hunting since she was eight, and introduced me to it about five years ago. We go hunting every October and November up at our farm in Michigan. We normally eat one deer over the next two months, take 70 pounds to Florida, and leave one up North. We eat a lot of venison.
I'm also a big fisherman. When my wife and I are in Florida, we catch a lot of snapper. Normally, we fish two or three times a week, and if we're not eating fish we caught that day or the prior day, we pull it out of the freezer.
Sunday, June 2
I went to work, and I had three coffees and Rice Chex for breakfast. We have a chef at the training site that makes lunches for players and coaches. I had some beef-barley soup, a chicken wrap, and some eggplant lasagna. The food's really good.
Dinner was a leftover chicken wrap. My wife and daughter were already out doing other stuff. That was all I had. I was tired! I'm not a dessert person at all. I don't need the calories.
Monday, June 3
I went into the office again and had three coffees and Rice Chex. For lunch, I had lentil soup, a roast-beef panini with Swiss cheese and artichokes, and a small salad.
For dinner, we went to a restaurant in Rye called Aurora. I went there with Isiah Thomas and his wife, who are long-time family friends. I also keep in touch with Vinnie Johnson and Rick Mahorn, but Isiah lives right down the street from me. I had a calamari appetizer and the salmon with potatoes and artichokes. I drank pinot noir.
Tuesday, June 4
Same thing: I went into the office and three coffees and Rice Chex. I had braised chicken for lunch with a half of a chicken wrap.
For dinner, my family and I went to a Portuguese restaurant in Newark called Seabra's Marisqueira. There, I had an octopus salad, which was great. I had fish stew as my entrée, and I had sangria. The portions were massive.
Wednesday, June 5
I was staying at the Hilton in Newark, so I got up in the morning and had three coffees and a spinach-sausage-Swiss-cheese omelette and a plain bagel with cream cheese.
For dinner, I went to Da Andrea on 13th Street with my wife, our trainer, and some family-friends. I had an octopus appetizer. I really like octopus. And I had a lamb shank and some red wine out of a carafe. I have no idea what wine it was. The food and service were good.
The last possible day for the WNBA playoffs is October 12, which is bow-hunting season in Michigan. So when I'm done coaching here, I'll go right to Michigan and bow-hunt and rifle-hunt all the way through November. I'll be in the woods every day. The biggest deer I've ever shot is a seven-point, which refers to the number of antler points. It's a whole lot of fun.