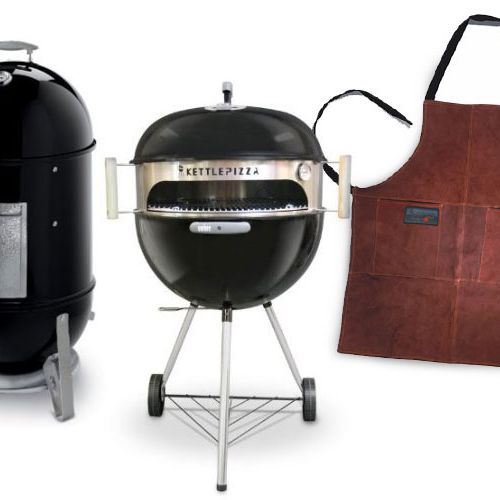 This can all be yours.
Photo: Courtesy of Amazon and BBQFans.com
If you're lucky enough to have access to a grill, it's your responsibility to make damn good use of it this summer. Sure, you can cook a decent cheeseburger, but you need to be grilling oysters, ribs, and pizza too. That means you might need some new tools for all that smoking, planking, and flipping of meats. Plus: With foraged-steel tongs and iron spatulas, you'll look like a boss. Here's the equipment — organized by price — that you need this summer.
Scott's Barbecue Sauce ($12)
Everyone needs to use some barbecue sauce every now and then. When you do, go for a classic. Scott's has been around for almost a century, and it holds up.
Kuhn Rikon Corn Twister ($15)
This little leaf-shaped tool easily strips corn off the cob. It makes for a great, cheap gift if you're a guest at someone else's barbecue.
Sugar Maple Grilling Planks ($15)
To master planking — cooking on hardwood, not the meme — it's important to be aware of the type of wood. For example: Maple is great for cooking chicken, while cedar's great for making fish.
Weber Chimney Starter ($15)
If you cook with charcoal, you need a chimney. It will get your coals evenly hot, quickly — meaning you can spend less time fussing with the fire and more time cooking up those burgers.
Steve Raichlen Grilling Grate Oiler Brush ($20)
With this handy brush, you can evenly coat your grill with oil and prevent an annoying sticky situation (perfect for all you OCD grillers). Plus: The brush is heat-proof, so it can be used while the grill's piping hot.
GrillPro Pizza Stone ($30)
You can and should grill pizza this summer, and this simple stone makes it much easier. Just make sure you work quickly: Serious Eats has a great how-to guide.
Steven Raichlen Ultimate Suede Grilling Gloves ($30)
When it comes to gloves, you need to make sure that your lower arms are covered, too. These eighteen-inch leather ones will get the job done, and they're also flexible enough to give you more dexterity than a mitt.
Herriott Grace Porcelain Table Lantern ($35)
It's not all about the food: You've got to set the barbecue mood. This small, hand-formed table lantern is simple and pretty. It'll look nice next to Herriott Grace's beeswax tea lights.
Fire Sense Notebook Charcoal Grill ($37)
Throw this compact grill in the back of your car (or under the bed in your small studio apartment) when you're not using it. It folds up like a lawn chair.
Pig Tail Food Flipper Box Set ($38)
It can be tough to pierce, flip, and move tender food (like ribs) without tearing right through. Use this.
FYRKAT Picnic Charcoal Grill ($40)
This attractive little red grill is also easy to transport. The fifteen-inch diameter accommodates a nice hunk of meat or, even better, a few sausages.
Outset Leather Grill Apron ($40)
You want to look badass when you grill, of course. This heavy-duty apron has a flame-retardant lining. Show everyone who's boss by engraving the leather patch with your name.
Chile Powder Sampler ($47)
Specialty-food grocery site MarxFoods.com (run by this guy) offers a package of five powders: aji amarillo, birdseye, chipotle morita, habanero, and pasilla negro. Sprinkle one, or all five, onto corn, chicken, or brisket (whatever!) to add some serious heat.
BBQ Oyster Grill ($65)
Grilled oysters (and mussels and clams) are starting to show up in restaurants everywhere. This steel shellfish grid can hold two dozen at one time, so all you have to do at home is shuck, grill, and add hot sauce.
iGrill Black Digital Grilling Thermometer ($80)
This Bluetooth device connects to your iPhone with a free app, allowing you to check the temperature of your meat from afar (but don't go too far). Even better: Dual probes let you monitor two pieces of meat simultaneously.
Splash-Proof Super-Fast Thermapen ($96)
If you're completely obsessed with precision, this gadget's one of the fastest and most accurate thermometers on the market.
Gladiator Grill Set Tongs ($150)
This Oklahoma-based Etsy seller handcrafts grilling tools in his blacksmith shop out of foraged steel. Hard-core.
KettlePizza Basic Kit ($150)
Step up your grilled-pizza game by turning your Weber grill into a charcoal- or wood-burning pizza oven! Just attach this baby.
Iron Design Company's Spatula (around $150)
If you can get your hands on this small craft studio's hand-foraged spatula, buy it. It doesn't look flashy, but the iron is super high-quality.
Weber Smokey Mountain Cooker Smoker ($299)
A meat smoker is a good investment. This porcelain-enameled one can fit an entire turkey and an entire ham at the same freaking time. It doesn't get much better.
Barbecue Dining Boat ($50,000)
And if you've got 50 grand to spare, go big and buy this motor boat that has a built-in barbecue grill. It fits ten!