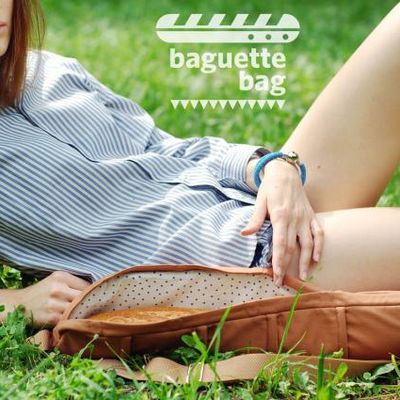 It really is kind of stylish, right?
Photo: Courtesy of CYAN
This baguette bag, which seems equal parts Amélie and American Apparel, does not yet exist, but it should. It's the work of Ukraine-based designer Victoria Panyukova, who writes that "your trip home from the bakery will never be the same" once the bag is in play. This comes across like a bit of a threat, of course, but we'll take it anyhow because the baguette bag is 100 percent cotton, and not only does it have a magnetic closure for easy bread access, it also has a "special inner layer that strengthens the shell," meaning it deters crust damage. Most of all, it's stylish and will eventually be produced in four colors. Or hopefully, at least.
Ms. Panyukova is looking to raise 4,000 euros (about $5,360) to put this dream into production. And unlike other fake-seeming products that may be orbiting about your social-media ionosphere, this thing isn't being used to sell you French fries or pizza. It's here to protect your bread, fair and square, and also make you stylish. Perhaps more stylish than you deserve to be.

Don't you want to be able to say you were on the right side of history? Or at least be the envy of all your baguette-loving friends? There is nothing as powerful, after all, as a baguette tote whose time has come.
Baguette Bag by CYAN [Wowcracy via FDL]
Related: Pizza Drones and Hands-Free Whopper Holders: How Fast-Food Giants Make Big Money by Selling Fake Products