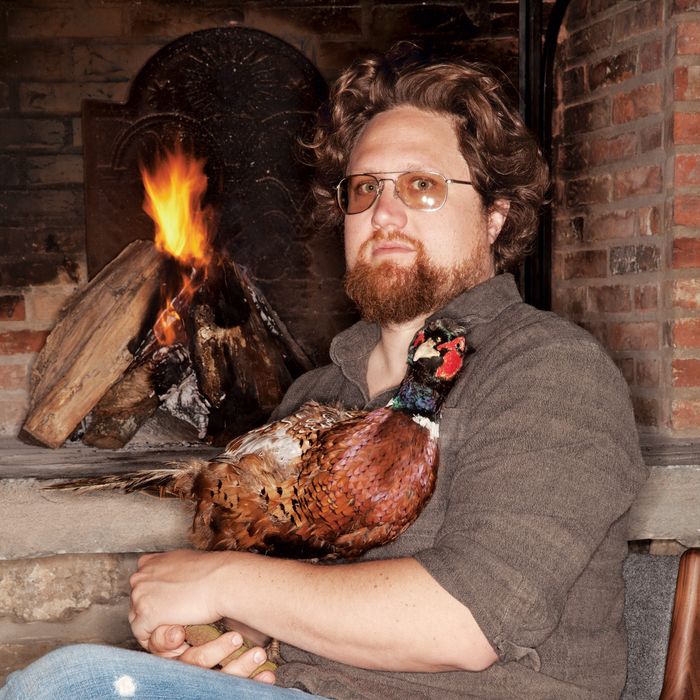 Photo: Boru O'Brien O'Connell
"You know what I also have that is gonna be delicious?" chef Zakary Pelaccio asks his wife and co-chef, Jori Jayne Emde, leaning over the kitchen island in their Old Chatham farmhouse. "We have the phytoplankton here, which I love." It's two days before their new restaurant, Fish & Game, opens in Hudson, and the couple is finalizing details of two prix fixe menus (one vegetarian, one carnivore) for the seasonal, local-farm-driven eatery. The restaurant will be a two-hour drive up the Taconic Parkway from Manhattan, but Pelaccio is banking on his city reputation as both the genius co-founder of the Fatty Crab and 'Cue restaurants and the spirited chef who once listed an eight ball and joints as merry-making "necessities" in a roast-pig recipe to convince the food-obsessed to make the pilgrimage.
It's hard to tell the couple are 48 hours from a restaurant launch; a half-hour morning menu discussion, occasionally accompanied by Pelaccio whistling along to Quincy Jones's "Killer Joe," is relaxed (but productive). He puts in a quick fish order, then we hit the woods to hunt for dinner: greens and mushrooms to use at the restaurant. After traipsing by creeks, under thorny branches, through pine-tree-bordered clearings, we drop to our hands and knees to comb the forest floor for morels.
"I've never had much success, and I definitely want to," says Pelaccio.
"Well, who doesn't?" Emde goads him. "I don't know anybody who likes food and is like, 'I don't really have any desiiiire to find morels.' "
Foraging for ingredients turns out to have its limitations. Before long, Pelaccio suggests we give up the mushroom hunt. Emde reluctantly agrees. "I mean, I can smell mushrooms though," she says, then tells me about recently sniffing her way to ramps. "Zak calls me a hound dog." She gives an animalistic howl. "It's weird, that's the sound I make when we're having sex."
"It boosts my self-esteem," says Pelaccio.
"Like you need it," she returns.
"We always need it," Pelaccio says.
Next, a search for salad greens. Pelaccio hands me a freshly picked garlic-mustard leaf to try (Pelaccio deems its aftertaste salami-esque). We move on to clip pepperwort (sharp and horseradishy) before heading back to the house, stopping by a barn that holds a pro-kitchen-size walk-in where prosciutto hangs drying next to jars of kimchee and Vermont butter aged for nine months. On one side of the room are barrels of homemade fish sauces, a healthy layer of funky mold growing atop them.
The house begs you to be outside—sunlight irradiates the spacious kitchen; back doors open to reveal an outdoor fire pit. A large bookshelf of almost exclusively cookbooks—from The Way to a Man's Heart to Modernist Cuisine—bisects the living room and dining area, and upstairs are two bedrooms, one soon to be decorated with Elvis prints for Hudson, Pelaccio's 9-year-old son, whose drawings hang by a shelf stacked high with Emde's homemade vinegars.
After a thorough tick check, Pelaccio sets to work making a lunch of pasta, cutting the aged butter into rough blocks and coarsely chopping the garlic mustard. He runs to the barn to grab some cider a friend in Vermont made them while Emde tends to the boiling pot. Ten minutes later he stomps back in the house, mock-crying: "We drank all our cider! Oh, no!"
Emde: "Get out of here! It's all gone?"
"It's all gone," Pelaccio confirms with a tragic laugh. "I'm so sad. That's fucked up, right?" After a brief period of mourning, we instead drink a bottle of juicy Slovenian wine; Pelaccio swirls a Long Island white.
"What vision did you have, Zak?" Emde asks about the pasta, and he tells her to add clam broth, some mussels (from Maine, leftover from a dish Emde had cooked earlier), and the butter. She portions out the noodles (a ridged varietal by Martelli, a favorite brand) in bowls that've been warmed in the oven, and he sprinkles a handful of garlic mustard over each. Both chefs eat quickly. "It's definitely much better to eat slowly, but it's never been one of my strong suits," Pelaccio says. "But I can drink a lot of wine."
After lunch we make the 30-minute drive to the restaurant. In the kitchen of their blacksmith shop turned homey, two-story restaurant, the atmosphere is low-key. "Not a lot of us scream 'fuck' all the time. We don't have a big screaming kitchen," says Pelaccio. "Jori yells through her silence; I just laugh it off." And their co-chef Kevin, Pelaccio jokes: "He just shoots heroin all day long, so it's easy for him."
Pelaccio and Emde sing made-up tunes while they wash the day's bounty. There is the lovage song, and the garlic-mustard ditty: "Garlic mustard. Picking garlic mustard, now we've got so much!" Pelaccio crows, then adding a flourish: "Gar-lique my balls." Emde replies, "That's what I was gonna say!"
*This article originally appeared in the May 27, 2013 issue of New York Magazine.