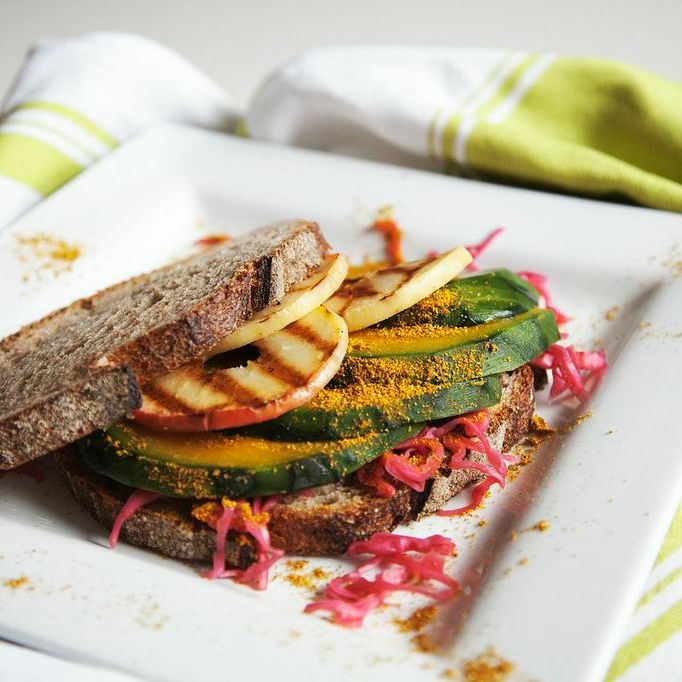 New café Ellary's Greens pairs apples with kabocha squash.
Photo: Courtesy of Ellary's Greens
Grub Street is decidedly pro-meat: Rotisserie chicken at Lafayette, raw beef at Takashi, and foie gras at Alder are all diet staples. But sometimes, especially before a night of big eating, it's helpful to take it easy during lunchtime. Plus: With summer around the corner, New York is finally getting some fresh local produce options — always good when showcased between bread. A crop of new sandwich shops have opened recently, so we've rounded up standout meatless options. A couple of these sandwiches even happen to be vegan. Don't be afraid.
Brie and Avocado
Where to Get It: Fritzl's Lunchbox
Chef Dan Ross-Leutwyler, formerly of Roberta's and Fatty 'Cue, is behind this casual Bushwick café. The two creamy ingredients come on toasted whole wheat with orange marmalade and alfalfa sprouts.
Bulgogi Seitan
Where to Get It: Spreads Sandwich Shop
Conveniently located right by Madison Square Park is a new sandwich shop that has exotic vegan options (applewood-smoked coconut "bacon" is a real thing), as well as plenty of real bacon and schnitzel. Go for the Korean bulgogi-spiced housemade seitan, which comes with kimchee-pickled cucumbers, scallions, and housemade vegan mayo on toasted ciabatta.
Quinoa-Veggie Burger
Where to Get It: Salud
The owners of this Midwood Latin American organic juice bar and café just opened a location on Thompson Street. A beet-based burger comes with chipotle soy mayo and a multi-grain bun. Wash it down with frozen hot chocolate.
California Avocado Sandwich
Where to Get It: Olives
The Soho sandwich shop only offers this sandwich as a special on Thursdays, and customers actually line up out the door for it. A perfectly ripe avocado matches with Vermont Cheddar, sprouts, red onion, tomato, and chipotle mayo.
Apple Sandwich and Kabocha Squash Sandwich
Where to Get It: Ellary's Greens
This new restaurant on Carmine Street has vegan, vegetarian, and meaty sandwiches — but all are light, as no butter or cream is used in the kitchen. For summer, owner Leith Hill is pairing apples and squash with curry dust and pickled red cabbage.
Veggie Burrito
Where to Get It: Tres Carnes
This new Chelsea spot is like Chipotle for Texas-smoked Mexican food. There's a ton of meat on the menu, but you can build your own burrito with veggie choices like roasted chipotle squash, black-eyed beans, four types of salsa, and smoky guacamole.
Vegetarian Hoagie
Where to Get It: Dave's Hoagies
The recently opened Philly-style sandwich shop does a meatless sandwich with homemade hummus, and you can add ingredients like sharp provolone cheese, roasted red peppers, chopped hot cherry peppers, diced artichoke hearts, and grated Parmesan cheese. Parisi Bakery provides the stellar rolls.
Thai Basil Seitan Rib Sandwich
Where to Get It: The Cinnamon Snail
This traveling vegan food truck has a cult following. Its seasonal menu changes often, and this week, it includes a special seitan item. If it's not available, go for the maple-mustard tempeh sandwich.
Panino con Uova
Where to Get It: Pastai
Vegetarian sandwiches aren't always so virtuous. The Chelsea Italian eatery makes one with creamy stracciatella pugliese, egg salad, and sliced vegetable pickles.
Jerry Lee Lewis
Where to Get It: Ton-Up Café
A new St. Marks restaurant names its sandwiches after rock legends. Jerry Lee Lewis, the lone vegetarian option, is made out of eggplant, zucchini, grilled fennel, and a mysterious "special dressing." It's vegan, too.
PB & Raw J
Where to Get It: The Butcher's Daughter
A much fancier version of a childhood favorite: This sandwich is made out of a blend of nut butters (peanut, almond, and hazelnut) and either sliced grapes or banana on toasted seven-grain bread. Other options include a caprese sandwich with cashew mozzarella.
Sweet PLT
Where to Get It: Van Horn Sandwich Shop
Southern-style sandwiches are a specialty at the Boerum Hill spot. A pimento cheese sandwich is on the menu, as well as a riff on a BLT that's made with smoked sweet potato chips, lettuce, tomato, and garlic aïoli.
Crispy Eggplant and Hard-Boiled Egg Sandwich
Where to Get It: The Cleveland
Green tahini is used as a condiment on this hefty, flavorful Mediterranean sandwich. It's an ideal light meal to enjoy in the Nolita restaurant's quaint backyard.