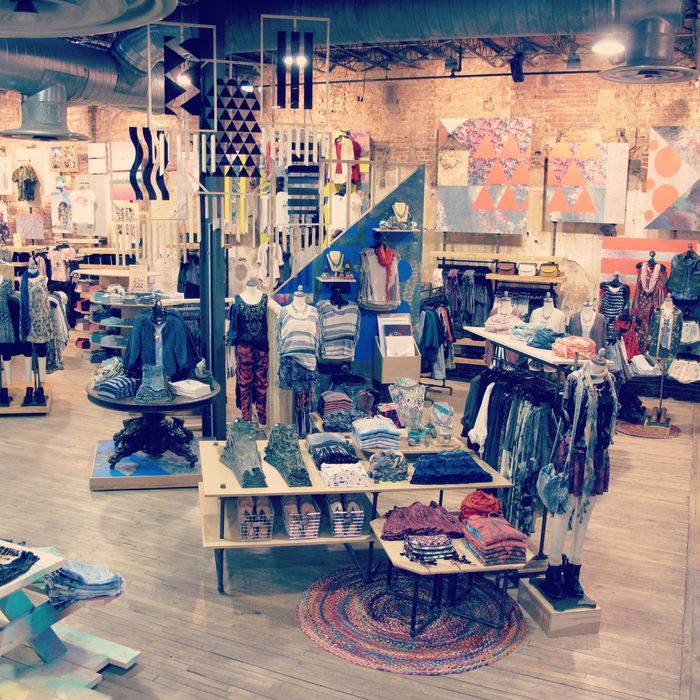 Like this, but with more flatbreads and root-beer-braised pork.
Photo: Store image courtesy of Urban Outfitters
The not-too-anticipated Urban Outfitters that's opening soon smack-dab in the pulpy heart of Williamsburg is apparently also going to have a restaurant and bar. No liquor license application has yet been filed with the SLA, but buried at the bottom of an agenda of more than 50 bars and restaurants up for liquor licenses at Monday night's CB1 Brooklyn meeting was this totally non-cryptic nugget: "Urban Outfitters, Inc, 98 North 6th Street (new, liquor, rest)."
In March, Crain's reported Anthropologie had signed for a space at 242 Bedford Avenue, a.k.a. the future home of Whole Foods, while the quirk-purveyor of squirrel-femur necklaces, coffee-table books on papercuts, confusing "Billy Berg" socks, and other unnecessary stuff like Ophelia-chic turtlenecks would be opening at 102 North 6th Street, next to American Apparel.
Though the retailer is apparently looking to score a full liquor license, it's not immediately clear what form its restaurant will take. Some Urban Outfitters in other cities have in-house cafeteria-style cafés and sandwich shops, but signs point to this one being a little more upscale: Last year, Bloomberg reported that the corporation had merged shopping and eating at two of its Urban Outfitters Terrain stores, with restaurants serving menus of things like "$36 striped bass, $39 ribeye and a $19 vegetable plate." Terrain's president Wendy McDevitt said customers who eat lunch or drink wine will typically stick around the store for twice as long. "Food is becoming bigger and bigger in terms of entertainment value," said McDevitt, which is just another way of saying you'll spend more after a few pickle backs.
Meetings, Agendas, Minutes [CB1]
Earlier: That Williamsburg Whole Foods Deal Is Signed and Sealed