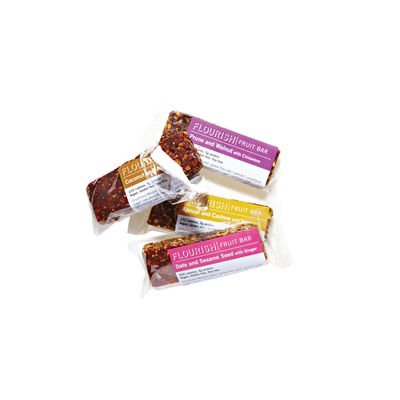 Photo: Bobby Doherty/New York Magazine
The ever-burgeoning field of bars—energy, protein, and otherwise—is viewed either as a necessary evil by time-pressed meal skippers or the bane of concerned nutritionists everywhere. Few would consider them real food, by any definition. Flourish Fruit Bars, made in Scarsdale at a self-described "vegetable bakery," might be the exception. The Flourish Baking Company was founded by chefs Diane Forley and Michael Otsuka—formerly of Manhattan's Verbena and Thalia—who first transitioned into whole-grain, produce-centric baking with a line of vegetarian potpies. This spring, they translated their fastidious sourcing and wholesome style into bar form, packing the product with organic nuts, seeds, and other equally identifiable ingredients. The bars possess a chewy-dense texture and only a marginal sweetness, and all four offbeat varieties (apricot and cashew with turmeric; date and sesame seed with ginger; coconut and almond with cacao; and prune and walnut with cinnamon) can be found at Dean & DeLuca (1150 Madison Ave., at 85th St.; 212-717-0800; $3.50).
*This article originally appeared in the May 20, 2013 issue of New York Magazine.