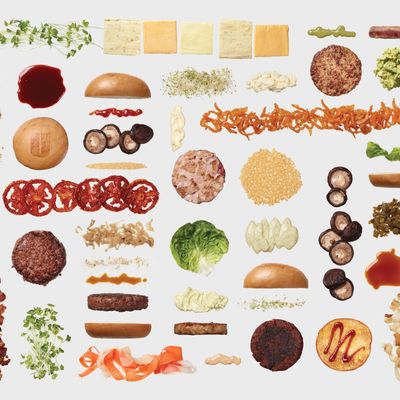 Photo: Dwight Eschliman; Food styling by Kevin Crafts
When he's asked, as he often is these days, about the much-anticipated smackdown between Danny Meyer's East Coast Shake Shack franchise and his West Coast Umami Burger, which is coming this summer to a New York neighborhood near you, Adam Fleischman likes to make a few things clear. First off, he wants New Yorkers to know that his L.A. Umami ­Burger empire—which has grown, in just four short years, from a $40,000 ­investment to a multimillion-dollar enterprise with madly popular, ever-multiplying outlets in San Francisco and Miami—isn't a burger joint in the usual ho-hum, ­utilitarian way.
"Burger chains like Shake Shack are all designed the same," he explains. "The food is all designed to taste the same. We don't do that. Each of our restaurants has its own character. We want our customers to have a unique experience. We wanted to be a restaurant group, not a chain."
Then there's the delicate matter of ­distinguishing between Danny Meyer, whom Fleischman admires, and Danny Meyer's ShackBurger, which he admires slightly less. Like Meyer, 42-year-old Fleischman is an outsider from the provinces (Meyer left St. Louis for New York in his twenties; Fleischman was born in Queens and grew up in the suburbs of D.C.). And like Meyer, he's a stickler for a relentlessly cheery brand of customer service and is famous for micromanaging every last detail of his restaurants.
But when it comes to the iconic American hamburger, the two restaurateurs have radically different visions. Meyer's ShackBurger is an ode to the middle-American burger shacks of his youth. Fleischman's goal, in creating his original Umami Burger, was to take the same nostalgic template—the store-bought bun; the pale, not-quite-fresh tomato; the prepackaged patty; the processed yellow cheese—and blow it, politely, to smithereens. "When I created the Umami Burger, I wanted a forward-­looking burger," he tells me. "I wanted a burger that was global and that had all sorts of modern influences."
And Fleischman's Umami Burger—which, according to legend, he invented, with no prior culinary training, in his home kitchen using ingredients rich in the mysterious, controversial Japanese "fifth taste" called umami—turned the L.A. burger world on its ear more or less overnight. Since its debut in 2009, local celebrities (Ashton Kutcher, Jay Leno) and chefs (L.A.'s popular Michael Voltaggio) have attested to its addictive powers, and several highbrow critics, including skeptical New Yorkers like GQ's Alan Richman, have declared it the finest burger in all the land.
Now, if Fleischman's carefully plotted umamification of the Eastern Seaboard goes according to plan, it's New York's turn. Never mind that the two coasts are deeply territorial when it comes to their burgers (there's a reason Shake Shack has never gone into California and In-N-Out Burger has never come here). Never mind, also, that New York has been a dead end for ambitious, cutting-edge cooks from out of town (there's a reason the canny Wolfgang Puck, to whom Fleischman is often compared, never really brought his newfangled pizzas here), and that New Yorkers, like Los Angelenos, have been experiencing their own profound haute-burger renaissance over the past ten years.
This July Fleischman and his major investors, SBE and the Fortress Investment Group, will start opening their Umami Burger restaurants in the city, with more possibly to come. The New York locations—chosen for maximum buzzy impact by Fleischman himself—are a Williamsburg spot on North 4th Street, a Sixth Avenue Umami Burger in the West Village, and a third, next year, at the World Financial Center in Battery Park City, coincidentally around the corner from a Shake Shack. They will be sit-down establishments—except for the Battery Park location—with a full list of cocktails and fine wine. The burgers will be ground in-house according to secret blends, seasoned with special "umamified" sauces and powders, then hand-molded before being slow-cooked in high-tech CVap humidifier ovens, then seared. They'll have theatrical names (the ­Greenbird, Truffle Burger, Port & Stilton Burger) and a veritable blizzard of ­addictive, umami-rich toppings (shiitake mushrooms, Parmesan crisps, truffles mingled with port wine) carefully calculated, according to their creator, to alter New Yorkers' tired, old-world perceptions of what a hamburger should be.
"New York has some okay burgers," says Fleischman, who arrived in L.A. in 1998 with vague dreams of being a screenwriter and still talks in exuberant, exclamation-punctuated sentences, like he's pitching an endless spool of story ideas. He enjoys the blend of meat April Bloomfield uses in her Spotted Pig burger, but wasn't wild about the puffy, non-traditionalist bun. He has kind things to say about Keith McNally's aged Black Label burger at Minetta Tavern, but balks at its price ($26). Besides, burger chefs in L.A. have been using aged beef in their blends for over a decade now. As for the ShackBurger, he feels it's merely an ­imitation of the classic nostalgia burger, and a "not great" one at that.
On this bright Southern Californian afternoon, L.A.'s emperor of Umami is dressed in an Umami Burger T-shirt, surfer shorts, and a pair of retro cloth sneakers with the shoelaces removed. When he opened the first Umami, on La Brea, he ran his corporate office from a disheveled room in his house. Now the Umami empire—which includes a popular L.A. pizza ­restaurant, a neo-Vietnamese joint, and multiple other umami-themed projects in various stages of development—occupies a suite of offices on Beverly Boulevard, ­complete with private executive parking spaces and a state-of-the-art video­conferencing room.
On display in Fleischman's office is Nathan Myhrvold's dense, six-volume treatise Modernist Cuisine, which he keeps in a gleaming Plexiglas box. He claims that he's read most of Myhrvold's learned study on the world of molecular gastronomy and its arcane techniques. But the book he can't stop talking about is a little volume called Umami: the World, which he found in 2008 on the website of an obscure ­Japanese organization called the Umami Information Center, shortly after experiencing a eureka moment while devouring a Double-Double Burger at In-N-Out.
By this time, Fleischman's dream of being a full-time screenwriter had long gone up in smoke. He'd worked in finance and the wine business and was casting around for a place to invest some money he'd made after selling his share in a wine venture called ­BottleRock. As he pondered his In-N-Out burger, "I asked myself, Why, over the years, do more pizza places and burger joints open up than any other kind of restaurant in this country? The answer was umami."
The word umami was first popularized in the early 1900s by a Tokyo scientist named Kikunae Ikeda, who invented the term (the very loose translation in ­Japanese is "deliciousness") to describe the flavor-­enhancing properties of glutamic acid, essentially known as MSG. The "fifth" taste (the other four being sweet, sour, salty, and bitter), as its believers call it, and I am one of them, is the tangy, faintly acidic, deeply addictive flavor that you feel in the back of your mouth when you eat a whole range of foods like gently cooked tomatoes, or anchovies, or a crunchy, ­caramelized, well-seared piece of beef. It's one of the keys to the enduring appeal of the great Asian-food cultures (Japanese miso, soy sauce, and Thai nam pla fish sauce are veritable umami bombs), and it's no accident that many of the most celebrated cooks in this comfort-food-obsessed era (David Chang, April Bloomfield, Danny Bowien at ­Mission Chinese) are adept at manipulating its magical properties.
Fleischman's radical idea was to take the simple burger and double down on its already formidable umami potential. By using various ingredients naturally high in umami, he boosted the flavor. Fleischman spent two months in his home kitchen, obsessively mixing and remixing seaweeds, cheeses, and stinky dried fish. He ­discovered that umami-rich ingredients don't work when you blend them into the beef, so he developed natural flavorings (Umami ­Master Sauce and Umami Dust), which he used to umamify the patty after it was gently precooked in the CVap oven. He decided that his beef patty should be smaller ("six ounces is the ideal") and coarsely ground in-house, instead of ­prepacked and delivered to the restaurant in a truck. To solve the problem of the dreary tomato slice, he slow-baked his tomatoes overnight with a soy-based sauce, which enhanced their umami properties.
Then there were the problems of the cheese and the bun, which among burger geeks are the subject of endless Talmudic discussions and debates. Parmesan cheese is high on the Umami Information Center's list of umami-rich foods (behind kombu seaweed and in front of nori seaweed), but Fleischman discovered that it doesn't melt very well. After much trial and error, he took the crisped Parmesan "frico wafer," which other chefs around L.A. were putting on salads, and plopped it on top of his burger. For his bun, he wanted something that felt store-bought—in the Shake Shack and In-N-Out mold—but didn't taste that way.
"I must have tried a million buns," he says. "The bakers kept bringing me these brioches. I didn't want an artisanal bun that screamed 'a chef made this burger.' " Nor did he want a cheap bun that screamed "I'm going to pay $4 for this burger." The bun he settled on was from a small ­Portuguese bakery, whose name and ­location he still won't identify. "To me, it was a familiar, soft, supermarket-style bun, but it was artisanal at the same time. It wasn't too hard. It was ­beautiful and round, like a brioche, but not too big and too showy. When I found it, I jumped for joy. It was the last piece of the puzzle."
The original Umami Burger opened in a space formerly occupied by a doomed Korean-taco shop. Because Fleischman didn't have the cash to remodel the space, he left most of the old Asian décor intact. There was no carryout operation, and you could enjoy your New Age truffle burger with wine brought from home for a modest corkage fee. After a month, there were lines stretching out the door and down the block. Two years later, when Alan ­Richman arrived in L.A. to see what all the fuss was about, there were four Umami Burger outlets, with several more on the way. Richman spent a few days tasting the burger unadorned and with a multitude of umami-laced toppings, and he concluded, with a flourish, that Fleischman's face belonged "on the Mount Rushmore of the burger world."
Naturally, not everyone in L.A.'s fractious burger community agrees. Some traditionalists thought the concept was contrived (on his influential food blog SinoSoul, Tony Chen called it "a bullshit burger"). Others accused the Umami restaurants of liberally sprinkling actual MSG on their food, a claim that Fleischman hotly denies. Last year, a chef named Ernesto Uchimura, who helped open the original La Brea restaurant and who now runs his own popular comfort-food joint in West L.A. called Plan Check, told the press that while the concept for the original Umami Burger was Fleischman's, the cooking techniques used to create it were his. "When I came onboard, there were no real recipes written, no method," he told Los Angeles magazine. "Adam had been messing around in his kitchen, but I developed all the burgers under his direction."
Not surprisingly, Fleischman denies this too. "The Umami Burger was ready to go the first time I made it," he says. "Believe it or not, it was all in my head." SBE invested $15 million two years ago, and since then, ­Fleischman, the undisputed CEO of the Umami Restaurant Group, hasn't had to worry about who takes credit for any of the company's burger schemes. He's recruited a stable of high-powered consultants, like the Top Chef ­Masters champion and noted offal savant Chris Cosentino, to help brainstorm new brand concepts, and everything that emerges from the company's test kitchens does so with his input and ultimate approval.
For this skeptical New York critic, Fleisch­man arranged a tasting at his large deli concept in downtown L.A. called Umamicatessen. When we arrived, the cooks in the kitchen were experimenting with all sorts of strange creations. We tasted a brownish, aïoli-like substance called Brainaise (concocted by Cosentino with whipped pig brains, among other things), and a faintly sweet pork-belly burger for the Miami restaurant designed to perfectly mimic the taste profile of that local delicacy the pressed-pork sandwich, or Cubano.
The first thing you notice about ­Fleisch­man's Umami Burgers is that they aren't the kind of giant, messy, hungry-man meat bombs designed to be consumed with two fists in the corner of some funky-­smelling bar. They're ­medium-size, almost dainty-looking objects, intended to be admired (and Instagrammed) as much as to be eaten. Each hamburger is carefully plated on porcelain, by itself, like a fine restaurant entrée. The toppings come in a multitude of festive colors, and every shiny bun is stenciled with a U-shaped tattoo made of vegetable ink.
The Truffle Burger, which was the one I tried first because I dreaded it the most, tasted of seared beef, melted cheese, and the essence of port, mingled with some vague, intoxicating taste memory in the back of your mind, which may or may not be truffles. The Greenbird turkey burger was topped with crushed avocados and fresh sprouts, which smell like they've just come from the garden. It was flavored with a creamy, housemade green goddess dressing tinged with anchovies, which seemed to set off all sorts of tingling umami sensors on my tongue. In taste and texture, it's about as different from your standard-issue East Coast turkey burger as a bag of frozen shrimp is from a fresh-cooked ­lobster just hauled off the coast of Maine.
"Who knows, we may flop in New York, that's totally possible," Fleisch­man told me as I ate my turkey burger. He said he's not worried about the obvious pitfalls of rapid expansion (along with New York, multiple Umami Burgers are being planned for Philly and Washington, D.C.), because "we're selling hamburgers here, not rack of lamb, and as long as we keep our focus, we should be okay." And he's convinced there's a niche in the New York market for his $10 hamburgers. "We're not copying anyone. We're not copying Shake Shack. We're creating a whole new genre."
It's difficult to disagree. As his burgers kept coming out of the kitchen in seemingly endless varieties, Fleisch­man expounded on his other umami-based projects and schemes. He's working with the former New York pitmaster Robbie Richter on a modern-barbecue restaurant called Roadhouse L.A., which will be opening at the Improv. His L.A. pizza parlor, 800 Degrees, which combines the classic Neapolitan pizza and the build-it-yourself philosophy of Chipotle, is "spinning out cash like a broken ATM." He's also interested in expanding to the Middle East, and last year, Fleischman bought into a local ice-cream purveyor called L.A. Creamery Artisan Ice Cream, which means he's been busy concocting exotic ice-cream flavors with names like Porc Phat and Gin and Juice.
For the big New York opening, Fleisch­man plans to introduce a French-dip burger, made with braised beef and served with umamified gravy on the side, just like the classic L.A. roast-beef sandwich. He would later tell me that they've been working on something called a Moco Loco, based on a Hawaiian fried-rice specialty; it's made with an all-beef patty, a fried egg, and a demi-glace, and squeezed between two rice buns. And don't even get him started on the Five Spice Duck Burger, which he's been fiddling with in his home kitchen, because as he put it, "duck isn't represented enough in the burger world." When he described the ingredients—Chinese five-spice powder, ground braised duck breast and leg, and fennel-and-apple compote—his eyes grew wide and he waved his hands in the air for emphasis. "This duck burger," Fleischman said, "will blow your mind."