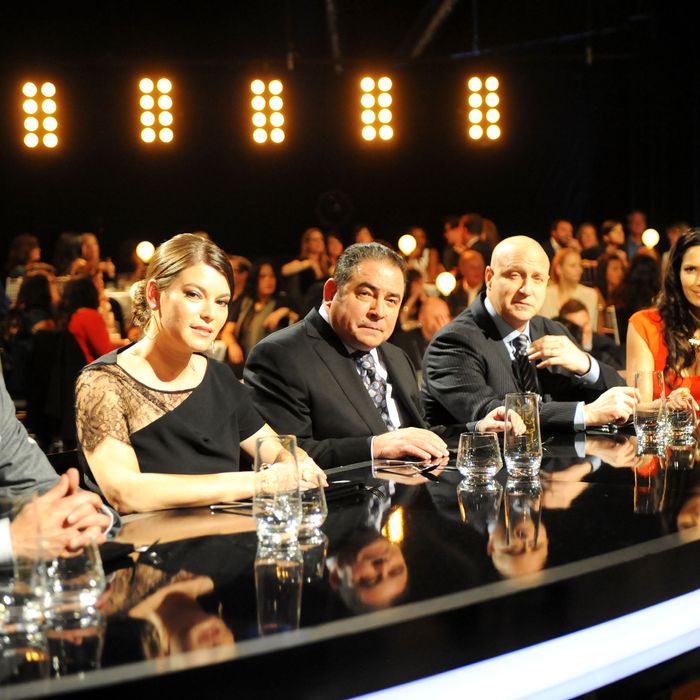 Wonder what Emeril Lagasse thinks about all of this.
Photo: David Moir/Bravo
The Times-Picayune reports (via Eater) that season eleven of Top Chef was partially funded with a total of $375,000 from local agencies, with $200,000 coming from the Louisiana State Office of Tourism and another $175,000 from the New Orleans Tourism Marketing Corp. This kind of sponsorship is nothing new, but interestingly, tucked into the news relayed by a representative for Lieutenant Governor Jay Dardenne is the nugget that the state's share of Top Chef money will be drawn from the fund established by BP subsequent to the Deepwater Horizon disaster in 2010. The multinational company is expected to pay many, many billions for remediation and fines for its role in the incident that left some 210 million gallons of crude oil on the Gulf Coast, so why not help out Tom and Padma? Does this mean a Quickfire Challenge in the new season will involve degreasing some hapless waterfowl, then cooking it?
Probably not. "We negotiated some things into that agreement, the biggest part of which was at least two of the challenges will take place outside of the New Orleans area, to showcase other parts of the state," Jacques Berry, Dardenne's communication director, tells the Times-Picayune. Critics, including Anthony Bourdain, seem to think something about the deal is rotten, however it may play out (the show has not yet begun filming), and that the allocation of funds is misguided. "Maybe give the 200G back to Louisiana? Would be a nice thing to do," he tweeted at Bravo's Andy Cohen, elsewhere suggesting the cash could be used on better things.
Dear @bravoandy Maybe give the 200G back to Louisiana? Would be a nice thing to do.— Anthony Bourdain (@Bourdain) May 14, 2013

Meanwhile, Eater looks at the somewhat nebulous parameters of the recovery fund (broadly stated, it's meant to offset "natural resource damages and related costs"), while Louisiana says the move will boost its latest tourism campaign, which cost $4 million and is already in progress. Getting more people to learn about southern food in general, and the regional cuisine of Louisiana in particular, seems like a pretty legit "related cost" to us. Let's just hope it's not all gumbo and clichés when it finally airs on television.
State, local tourism offices paying $375,000 to underwrite 'Top Chef: New Orleans' [Times-Picayune/NOLA.com]
Top Chef Gets $375,000 From NOLA and Louisiana (Using BP Oil Spill Recovery Funds) [Eater]