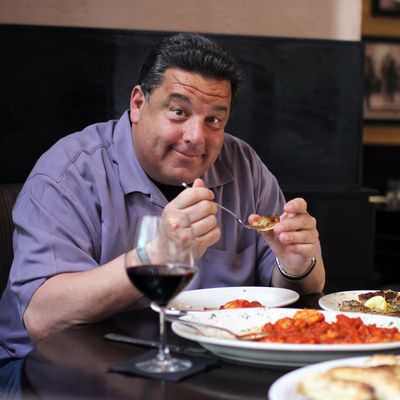 Schirripa feasting at Harry's Italian Pizza Parlor, one of his go-to neighborhood spots.
Photo: Melissa Hom
These days, actor and comedian Steve Schirripa — whom you may recognize as pretend mobster Bobby Baccalieri on the Sopranos — is playing the toughest role of all: dad. He wrote Big Daddy's Rules: Raising Daughters Is Tougher Than I Look as a love letter to his daughters: "In all my craziness … I wanted them to know how I really feel." Aw. Schirripa's also working hard at losing weight, steadily shedding 30 pounds a year for the past ten years. But dieting doesn't mean this pretend mobster's eating tofu and granola: He favors Italian food at Peasant, and celebrates special occasions with pizza at L&B; Spumoni Gardens. Learn where he gets the best secret food at Knicks games, and more, in this week's New York Diet.
Friday, May 3


I'm trying to lose weight, so breakfast is not as exciting as it would normally be. The way I eat would be fantastic: eggs, huevos rancheros, a frittata — good stuff, but bad-for-you stuff. I'm not on a diet, but I'm just kinda "watching." So I'll eat things like oatmeal, Cheerios, and Fiber One. Friday, I went off-script and had a whole-wheat wrap with two egg whites, salsa, and two big cups of Half-Caff Keurig coffee. Big like the ones they used to drink on Friends. Half-caffs because two full caffs of that would get me jittery.
Lunch was an apple and salad with tuna, plus oil and vinegar dressing, made to go by my wife because we had my daughter's softball game.
After the game, we went back to the city and had a family meal at Harry's Italian, a neighborhood favorite. The guys are good guys. We had grilled shrimp, fried calamari, spinach with garlic and oil, and I had two Ketel One vodkas on the rocks. That's my drink — with lemon.
I'm not going to say we're foodies, but we go out to dinner a lot. But we go where we're comfortable. I'm a big guy. I can't fit in at these trendy places where you're squished. You go to restaurants and people are piled up on each other. I'm convinced there are people in New York City that like to get abused. They overpay for everything. They get shoved in the corner. They wait too long, and they don't mind.
Saturday, May 4


My wife made Quaker oatmeal, and I put in two things of Truvia and a couple of blueberries. I had that with two Half-Caff coffees.
At lunchtime, I didn't know where my daughter was, and my wife was out, so I had leftover salmon with broccoli in garlic and oil dressing by myself. My wife doesn't eat red meat, so these days I gravitate toward seafood.
Dinner was at Peasant, my favorite restaurant in all of Manhattan. It's an underrated restaurant — even though it's always packed, it doesn't get the buzz that a lot of other places get. Frank DeCarlo is in the kitchen: He and I used to be neighbors when I lived on Hester Street. He lived upstairs from me and kept saying, "Come to my restaurant," and I was like, "Yeah, yeah, yeah." One day I went, and now that's my restaurant.
On Saturday night, I had a business thing. My new show, Karma's a Bitch, is on Investigation Discovery, so I went out with some people from the network and ordered family-style. They have the best grilled octopus I ever had. We had razor clams, cuttlefish, a beet salad with some blue cheese, skate fish, asparagus with eggs, cheesy polenta, and organic white wine. I'm a pinot grigio drinker — very lightweight with the wine, since I like to drink so much of it.
For dessert, I had fruit. The other folks had all kinds of dessert — bread pudding, pear pie, panna cotta — but I asked for some fruit, so they just cut some up for me. And then they gave us a shot of limoncello.
After, I stopped at Harry's on the way home and had a couple of Ketel Ones.
Sunday, May 5


Two giant cups of Half-Caffs, Fiber One cereal with soy milk and blueberries. Fiber One is terrible, man — terrible. But I have to do it. And I'm lactose intolerant. Now the world knows.
This is the greatest weather for walking: I have my headset on, I listen to Van Morrison, a little Sting, some Dave Matthews, and I go. I used to take stops on my walks. When I wasn't trying to lose weight, I would walk to the pizza store and get a couple of slices. But now that kind of defeats the whole purpose.
In the afternoon, I went to the Knicks game with my wife. I'm a huge Knicks fan. There's a private club in the Garden that I'm lucky enough to get invited to, catered by Jean-Georges. We went there about an hour before the game, and they had an incredible buffet. I had some tuna and mahimahi, Caesar salad, and sushi.
Went to Walkers on Varick after for dinner. I ate at the bar and watched some other NBA playoff game. I had the scallops with asparagus and onions, a salad, a baked potato, and once again, a couple of Ketel Ones. And this time, also a couple of Stellas.
Monday, May 6


Today I went crazy with Cheerios. Crazy. Soy milk and blueberries, two Half-Caff coffees.
I didn't want to eat too much because I was co-hosting The View, a pretape airing Friday. I took Hasselbeck's spot. I had a turkey and cheese wrap there. You don't want to eat all fancy when you go on TV.
My wife made chicken, a baked potato, and asparagus with onions. I went right to the chicken, but I ate the skin. We had sugar-free jello. Of course my favorite jello flavor is the red one, but she made me green and she made it with pieces of apples in it. The green one ain't bad.
That night I went to the Rangers game, and again visited the private club. I had a small pork chop, tuna salad, sushi, two Bud Lights, and some popcorn. The food up there is fantastic; there's a huge selection. That's all I ate, but I could go crazy there. There's hardly anything I love to do more than eat and drink. Really, what is it all about? You got some good friends, some good food, and some good wine. What else are we doing here?
Tuesday, May 7


Started with just oatmeal and coffee.
Lunch was at Tribeca Grill with Drew [Nieporent]: chicken and vegetable salad, tuna tartare, and one roll. They have the greatest rolls. Usually I'll have two or three of those, but because I haven't been eating, I only had one. The tuna tartare is not on the menu; it's fantastic. You tell them that I said it's okay, and they'll make it for you.
Dinner was at Gino's in Bay Ridge. My girl had a softball game, so afterwards, we went there. I like to use her softball games as an excuse to eat there. It's a great, old-school restaurant. They don't take reservations; you've gotta wait to get in. Well, I don't have to wait, but most people have to wait to get in. We had Chilean sea bass, pasta and eggplant, white wine, and fruit.
And then I came home. There's no craziness. I wasn't at Marquee at four in the morning, and I didn't go to the 40/40 Club with Jay-Z.
Wednesday, May 8


I did the Today show with my two daughters to promote the book. I only had one cup of Half-Caff before, because I didn't wanna get jittery or sweat. I had to do another thing for New York 1 after, so I just grabbed an egg on a wrap from a deli.
For lunch, I went to L&B; Spumoni Gardens. It's been in Bensonhurst for 70 years, near Lafayette High School, which is where I went. For my money, it's the best pizza in all of New York City. We had a couple of slices, and that was my kind of celebration for the book coming out. We had a little eggplant Parmesan, breaded shrimp — a taste of everything.
The guy who drives me is also from there, so we decided to go together. I would rather hang out with my driver than hang out with a lot of celebrities. What do you think about that?