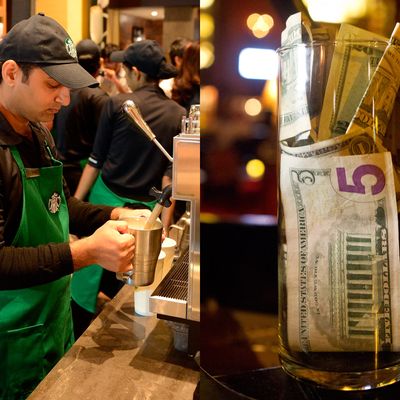 Who gets a cut?
Photo: Matthew J. Lee/The Boston Globe; PUNIT PARANJPE/AFP/Getty Images
You might not give much thought to the Starbucks tip jar. If the cashier isn't a jerk, you toss in some change and go wait for the barista to call your name. But who actually gets to keep a portion of those tips is now a hotly contested issue: A federal appeals court has deferred to the New York Court of Appeals to review which of Starbucks' employees are entitled to cash tips. This case's impact will extend well beyond the 200 Starbucks outposts in Manhattan: It could mean more money for a quarter-million hospitality industry workers in the city and shake things up for 2,000 New York businesses statewide.
Currently, Starbucks allocates tips among baristas and shift supervisors, depending on how many hours they work per week. It can mean a bump of close to $2 more per hour. But now assistant managers want in on the extra cash to augment their salaries. Do they deserve it? Ranked in ascending order, here's how the responsibilities and incomes of the rivaling employees break down:
1. Baristas (entitled to tips):
The lowest level of Starbucks employees.They get paid by the hour and, according to Glassdoor, make an average of $8.79 per hour.
2. Shift Supervisors (entitled to tips):
These workers have some management responsibilities, like coordinating staff breaks. They get paid more than baristas, but they still receive hourly wages (according to Glassdoor, an average of $10.98 per hour).
3. Assistant Managers (not eligible for tips):
These employees are salaried and more senior, but they still serve customers. They do not have the power to hire and fire staff, but they do provide recommendations for those decisions. These workers receive an average salary of $33,622 a year, according to Glassdoor. They now want in on the tips, too.
The Court of Appeals will have to decide which employees are official "agents" of Starbucks — and agents are prohibited from receiving tips. And if the court determines that both shift managers and assistant managers are not agents of the company, it'll also have to consider whether New York Labor Law requires companies to give tips to all employees who are eligible. That means that Starbucks could have the power pick and choose who gets tips.
To give you some context, this drama isn't new. In 2008, a California barista filed a class-action suit against Starbucks, stating that shift supervisors shouldn't be entitled to tips. The State Supreme Court agreed, mandating that Starbucks owed baristas more than $100 million in tips. But then, one year later, an appeals court reversed the decision, ruling that supervisors "essentially perform the same job as baristas."
And last year, Starbucks baristas in Massachusetts also challenged the company's requirement to share tips with shift supervisors. This time, baristas won. A U.S. Court of Appeals panel in Boston ruled that Starbucks owes baristas $14 million in damages. Time for damage control: Starbucks started to reconstruct its classification system by creating a "shift manager" tier of employees who won't receive tips.
But now Starbucks is being slapped again — and even harder. These prior cases didn't focus specifically on salaried assistant managers, but the court in New York may have to address those employees to resolve the case. Since judges have been indecisive about letting shift supervisors dip their hands into the tip jar, why would they give the more senior (and better paid) assistant managers access to the cash? Tips are supposed to bring scanty wages up to a reasonable level, not boost salaries.
It's hard to say how New York's case will impact Starbucks on a national level. But since the state's highest court is reviewing this case, it'll set a precedent that will likely be cited again and again as other courts interpret their own state laws — especially because Starbucks' service model is pretty much the same no matter where you're buying a skinny extra-hot vanilla latte.
Our resident number-cruncher, Hugh Merwin, estimates that if there are 13,279 Starbucks outposts in America, with five baristas working 25 hours per week and making between $1.10 and $2.25 in tips, this could affect the allocation of between $1.8 to $3.7 million per week. That's a lot of chump change.
NY HIGH COURT EYES WHO CAN TAP STARBUCKS' TIP JARS [AP]
Starbucks wins reversal of $100-million tips verdict [LAT]
Court: Starbucks owes more than $14m to Mass. baristas [Boston Globe]
Starbucks restructures 'shift supervisor' position in Mass. [Nation's Restaurant News]