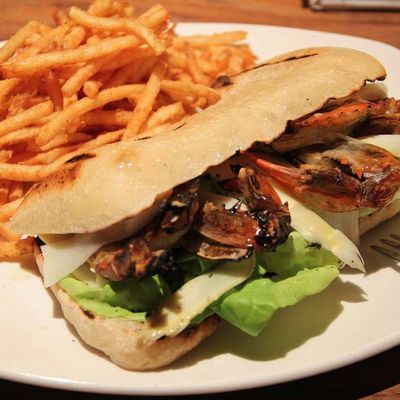 Cull & Pistol's sandwich is grilled, not fried.
Photo: Courtesy of Cull & Pistol
If Memorial Day marks the (unofficial) start of summer, it's finally the season for outdoor dining, white pants, and soft-shell crab specials. These sweet, briny, crunchy crabs begin to show up in menus in May and can stick around for most of the summer. Soft-shell crabs taste great when both deep-fried and grilled, but everyone knows they're at their best when the whole crab is stuffed inside a sandwich. Though it was recently appointed Maryland's official state sandwich, it's also a New York summer mainstay: This year, restaurants are serving the delicacy on house-made sesame-seed buns, tarragon flatbreads, and freshly made brioche. We've rounded up some fantastic summer specials, straight ahead.
Vinegar Hill House
After offering a soft-shell crab sandwich at GoogaMooga, the restaurant is serving it as special on its brunch menu through the end of June. Crab is dusted in rice flour before it's deep-fried and topped with "mayonegra" (mayo with salsa negra). It comes on a sesame-seed potato roll.
Lafayette
The lunch menu includes an $18 tempura-fried soft-shell crab with marinated tomato and ramp gribiche on freshly made brioche bread.
Bell Book & Candle
Soft-shell crab sliders! These miniature crispy sandwiches are stuffed inside house-made Parker House buns with celery-root sauce and a mustard-spiked tartar sauce.
Alobar
Ordering a soft-shell crab BLT is a good move. This one's got cornmeal-crusted crab, Applewood smoked bacon, chipotle aioli, roasted tomatoes, and lettuce. Worth the trip to Long Island City.
La Esquina
The Mexican restaurant is offering a special torta sandwich in its café, as well as a soft-shell crab taco downstairs in the dining room. The crabs are cooked on the grill, seasoned with chili peppers and Mojo de Ajo, and served on a toasted brioche roll with chipotle-and-pickled-ramp mayo, roasted tomatoes, and watercress.
Fatty 'Cue
Williamsburg's Fatty outpost is serving an open-face soft-shell crab sandwich with crab-curry sauce. Nice.
Back Forty West
The Soho restaurant adds charred-ramp aioli and sweet pickle rhubarb to its soft-shell crab sandwich, which comes on a classic burger bun.
Market Table
You'll find a classic version of the sandwich at the West Village restaurant, where chef David Standridge is serving deep-fried soft-shell crab on a house-made bun with spicy slaw and Old Bay fries.
The Dutch
In addition to the Lafayette sandwich, Andrew Carmellini is also offering a soft-shell crab sandwich over at the Dutch. That one is paired with gribiche and a smoked egg.
The Greenwich Project
Here, you'll find crispy crab on an open-faced, house-made tarragon flatbread with pickled ramps, avocado tempura, spicy bacon aioli, and local corn relish.
Cull & Pistol
This new Chelsea Market restaurant from the folks at the neighboring Lobster Place is grilling, not frying, one soft-shell crab for each sandwich and then topping it with pickled white asparagus, Bibb lettuce, tarragon, and Kewpie mayo. It's all piled on toasted ciabatta.
Cherrywood Kitchen
Another BLT to add to your sandwich hit list: These crabs are breaded with garlic and shallots, fried, and then topped with tomato, lettuce, Sriracha aioli, and bacon. The ingredients are crammed inside a house-made toasted kaiser roll and plated with "French fry ends" with cheese and bacon crumble.
A.G. Kitchen
Uptown, Alex Garcia is cooking a Spanish riff on the sandwich, stuffing a sesame-seed bun with grilled soft-shell crab, papaya relish, avocado, and spicy chipotle aioli.
Craftbar
On the Flatiron restaurant's lunch menu is a fried soft-shell crab sandwich with ramp vinaigrette and pickles. You know you want to escape your midtown office.
Fish
Bleecker Street's seafood den is serving soft-shell crab on plain white bread with lettuce, pickle, tomato, onion, and tartar sauce — just like you'd find at a true beachside fish shack.