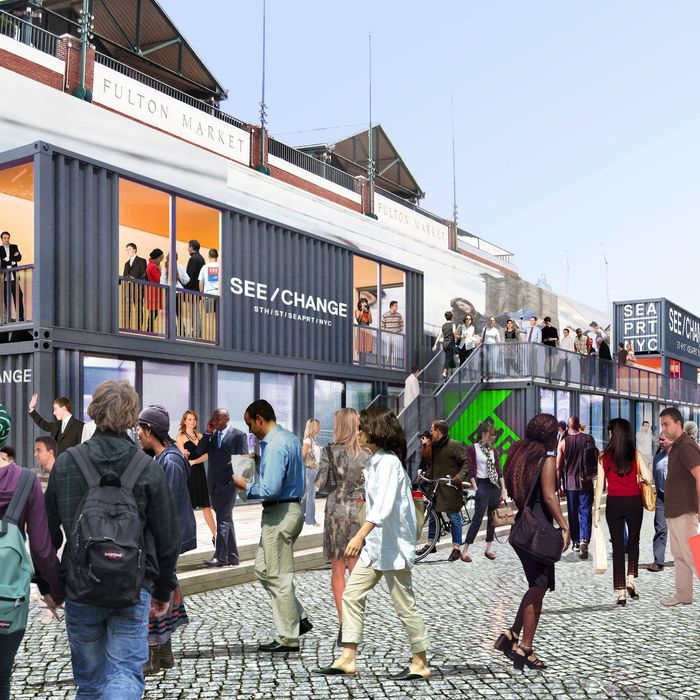 One of the many uses for shipping containers.
Photo: Howard Hughes Corporation
Earlier, we learned that entrepreneurs Eric Demby and Jonathan Butler were developing a seasonal version of Smorgasburg to take place as a stop-gap, prepared foods marketplace in the Hurricane Sandy-damaged South Street Seaport area. A beer garden with seating for a maximum of 300 called Smorgasbar will open on Memorial Day weekend, and spanning one part of Front Street will be a marketplace of Smorgasburg vendors like Landhaus and Brooklyn Oyster Party, City Room reported yesterday. We've now got the full list of vendors who'll be crossing the East River in a few weeks, straight ahead.
Asia Dog
Blue Marble Ice Cream (cart)
Brooklyn Oyster Party
Brooklyn Soda Works (cart)
Fonda
Kelvin Slush Co. (Front St. bar only)
Landhaus
Milk Truck Grilled Cheese
Pizza Moto
Red Hook Lobster Pound
Rice & Miso Everyday
Some vendors, as noted above, will operate carts in the Seaport. There will also be a second bar atop one of the shipping containers.
As City Room points out, the glut of seasonal programming organized by the Howard Hughes Corporation for the area extends well beyond lobster rolls and grilled cheeses: D.C.-area "event production/experiential marketing agency" Brightest Young Things is also coming to town to convert Cannon's Walk area as a some sort of cultural inoculation zone. The space will be curated, as they say, possibly with a "glitter-spewing balloon canopy," which is something every recovering disaster area sorely needs.
At Hurricane-Ravaged Seaport, New Forecast Calls for Glitter Rain [City Room/NYT]
Earlier: Brooklyn Flea and Smorgasburg Expand to the Seaport, Sorta